This is an archived article and the information in the article may be outdated. Please look at the time stamp on the story to see when it was last updated.
EDMOND, Okla – The world can be a scary place, especially for a small child.
11-year-old Aubrey Craig said, "There are so many bad things out there and you never know what can happen to you."
Aubrey and her nine-year old sibling, Ava, have been having trouble sleeping lately. The nightmares that have caused many restless nights in the Craig household.
Mom, Kaycie said, "They're just scared about life in general."
The Craigs' have tried to ease their children's fears, including a nightly safety check of their Edmond home.
Mrs Craig told us, "We started a process where we would get her up before bedtime and go door to door and window to window to show she's safe and everything is locked and we live in a safe town and community."
But more times than not, little Ava would end up on her parent's bedroom floor, in tears.
Lt. Paul Barbour is a 29-year veteran of the Edmond Police Department, but he's also a parent.
When he got word of the children's fears, he wanted to help. "One of the things that probably bothers me the most, is the fact that criminals can take the innocence of a child. And I don't want that, for my kids or anybody else's children."
During a recent graveyard shift, this policeman with a tender heart left a reassuring, hand written note for the Craig family.
He taped the note to the front door, for the kids to find the next morning.
Sort of a Santa Claus with a badge.
Barbour said, "My heart went out to them and I needed to do something to make them feel safe."
The note said, "I am driving through your neighborhood and everything looks good." It's amazing how a few minutes changed the lives of an Edmond family.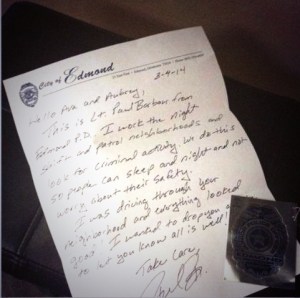 The family is resting better than ever, knowing there are peace officers like Lt. Barbour out there.
11-year-old Aubrey said, "I felt a lot more safe and secure knowing that someone is watching after us."