This is an archived article and the information in the article may be outdated. Please look at the time stamp on the story to see when it was last updated.
NORMAN, Okla. – Officers are often tasked with investigating car burglaries but now authorities say they are the victims.
Last Wednesday, someone broke into three marked law enforcement vehicles in southeast Norman.
Authorities say the thieves broke into a Cleveland County Sheriff's car and two patrol cars from the Norman Police Department.
Capt. Tom Easley, with the Norman Police Department, say the thieves stole a Cleveland County Sheriff's Department jacket, a Kevlar helmet, a black tactical vest and two AR-15 assault rifles with attached accessories.
The rifles both have the Norman Police Department patch engraved on the lower receivers.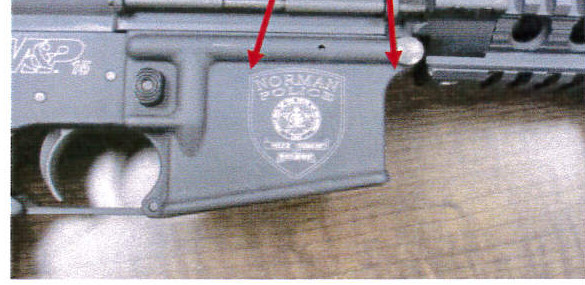 If you have any information on the crime, call Norman CrimeStoppers at (405) 366-7867.
Officials are offering $1,000 reward for information leading to an arrest in the case.