This is an archived article and the information in the article may be outdated. Please look at the time stamp on the story to see when it was last updated.
OKLAHOMA CITY –Health officials say the flu is taking its toll on Oklahomans, adding that the number of deaths associated with the virus is on the rise.
Experts say that 231 people had to be hospitalized within the last week due to the flu virus, bringing the total number of hospitalizations to 1,020.
According to hospitalization numbers from the Oklahoma State Department of Health, residents in Oklahoma and Tulsa counties accounted for the most flu hospitalizations in the state.
Oklahoma County recorded 233 hospitalizations, while Tulsa County recorded 225 hospitalizations. The next closest county is Cleveland County, which recorded just 70 hospitalizations this season.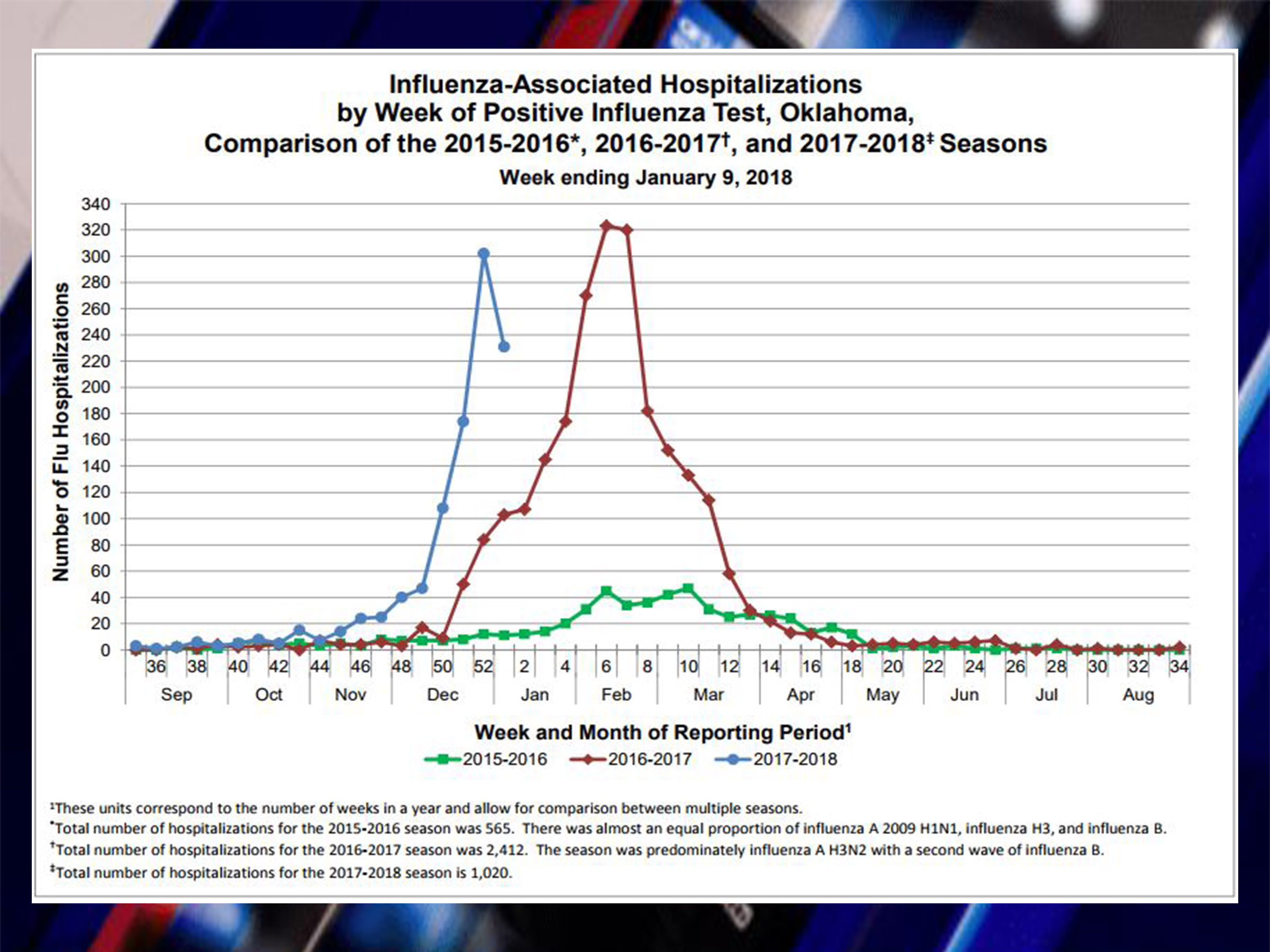 So far, officials with the Oklahoma State Department of Health say that 22 people have died from the virus since September.
Within the last week, four people have died from the flu.
Health reports state that all of the patients who died from the virus were over the age of 50.
The Centers for Disease Control and Prevention say you should be vigilant with washing your hands, avoid touching your eyes and mouth, get plenty of sleep and eat healthy to help give your immune system a boost. Also, experts suggest getting the flu shot.
"Getting the flu is an awful experience. Getting it during the holiday season is even worse," said Chakravarty. "So if you need to be out and about running errands and meeting up with friends and family, it's wise to protect yourself–and them–as best you can."
Doctors say a typical flu season in Oklahoma usually runs from October to May.
If you get sick, look out for severe aches and pains in your muscles and joints, notable fatigue and weakness, headaches and a high fever.
If you are experiencing those symptoms, call a doctor as soon as possible. Experts also say you should not go to work or school if you have a fever.