This is an archived article and the information in the article may be outdated. Please look at the time stamp on the story to see when it was last updated.
OKLAHOMA CITY - A metro firefighter is in hot water after a routine traffic stop landed him in jail.
Terry Allen, who has been with the Oklahoma City Fire department for 22 years, was arrested by the Oklahoma Highway Patrol last weekend.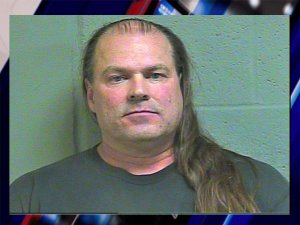 "I get to the point where I'm going to let his supervisor deal with it and cut him a break. By this point, we know he's a firefighter," said the arresting trooper.
The arresting trooper, who doesn't want to be identified, told News 4 in a phone interview that it started off as a simple traffic stop and led to Allen going to jail.
"So, they got him in handcuffs, I went to the passenger, who was Terry Allen, and I asked him, 'Hey, are we going to have any problems or are you going to get out?'"
Officers said the car was stopped for speeding along I-44 and Southwest 59th around 2 a.m.
The trooper told us the driver, at one point, refused to get out of the car and was later arrested with a DUI.
As for Allen, police said he was upset.
"'You need to calm down. I didn't do anything to you,' just cussing us. He's really moody and belligerent," the trooper said.
Troopers said Allen was intoxicated and was initially going to go home. They said they were going to have the fire department determine his fate.
That's when Allen's mood allegedly went from frustration to threats.
"He says to me, 'I hope all you mother********* die on the side of the highway.'"
He was then placed in handcuffs and that's when troopers found a gun.
"My lieutenant, who is doing inventory of the vehicle, and finds a loaded 380 pistol in his jacket, Bandido jacket," said the trooper.
Once taken into custody, the trooper said Allen threatened him.
"Is there going to be a problem when these handcuffs come off? He goes, 'No, I'm just trying to remember your face so when we meet outside of here.' I go 'Oh, really is that a threat?' He goes, 'No' and when I'm leaving he goes, 'I'll see you around.'"
Allen was arrested on complaints of public intoxication, failure to notify DPS of changes and possession of a firearm while intoxicated.
The fire department tell us Allen has not been placed on leave.