This is an archived article and the information in the article may be outdated. Please look at the time stamp on the story to see when it was last updated.
COWETA, Okla. – The National Center for Missing and Exploited Children is asking for assistance from the public to help locate a missing teenager.
Officials say Joshua Hart went missing on November 5, 2016 from Coweta, Oklahoma.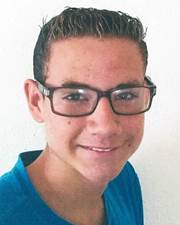 Hart, who would now be 16 years old, may still be in the local area or may have traveled to San Antonio, Texas; Odessa, Texas; or Guthrie, Oklahoma.
He is described as 6 feet tall and weighs approximately 150 pounds. He has hazel eyes and natural brown hair, however officials say when he was last seen, his hair was dyed blue.
He also may wear glasses, has multiple lip and ear piercings, and may go by the nickname Josh.
Anyone with information about Joshua is asked to contact the National Center for Missing & Exploited Children at 1-800-843-5678 (1-800-THE-LOST) or the Wagoner County Sheriff's Office at 1-918-485-3124.