This is an archived article and the information in the article may be outdated. Please look at the time stamp on the story to see when it was last updated.
OKLAHOMA CITY – A suspect who drove a stolen vehicle and led police on a chase is now in police custody.
Multiple departments assisted in the pursuit Friday morning and afternoon.
The pursuit began Friday morning in southwest Oklahoma City and led officials through the metro for more than two hours.
Police say the vehicle the suspect was driving was stolen.
Law enforcement has not confirmed the name of the driver, however family members have confirmed to News 4 that the driver is Brenton Hager.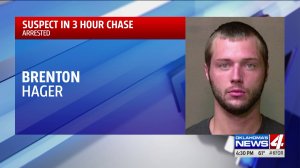 Hager reached high speeds throughout the pursuit. He also drove through fields to escape officers.
Officers threw stop sticks out during one point of the chase, but the suspect drove around them.
The chase stopped near Indian Hills Road and Penn Ave. where multiple police vehicles were on scene. However, just before 1 p.m., Hager drove again around a field and into a pond.
That's when he got out of the vehicle on foot with multiple officers following him.
One officer fired his taser and Hager fell to the ground.
He was taken to the hospital and is now in police custody.
Law enforcement was cautious throughout the pursuit and stayed back at a safe distance.
South Moore High School was also lockdown due to this incident, however there was no threat to the school.
Bob Moore Chopper 4 was over the scene.
News 4 also had a ground crew on scene.