This is an archived article and the information in the article may be outdated. Please look at the time stamp on the story to see when it was last updated.
OKLAHOMA CITY – Officials with the Emergency Medical Services Authority hope to have less calls about children being left in hot cars this summer.
"We do see a lot of calls come through in the summer time for children and animals that are left in locked vehicles with the windows rolled all the way up," said Heather Yazdanipour, a EMSA paramedic.
Yazdanipour said that can end very badly.
"For a child, they don't have the ability to thermoregulate like an adult does. Their body responds much differently. So, when you lock them in the vehicle, you're taking away the breeze that might try to passably cool them," Yazdanipour said.
In just 10 minutes, the temperature in the demonstration car Yazdanipour used rose from 110 degrees to 140 degrees.
"We can actually see the interior of a vehicle get to lethal temperatures as low as 88 to 90 degrees outside," Yazdanipour said.
She said, often, when children are left in the car on a hot day, they are often simply forgotten.
"Try to put something that will remind you in the back seat with that child. Your purse, put your briefcase, put anything that you can back there," Yazdanipour said.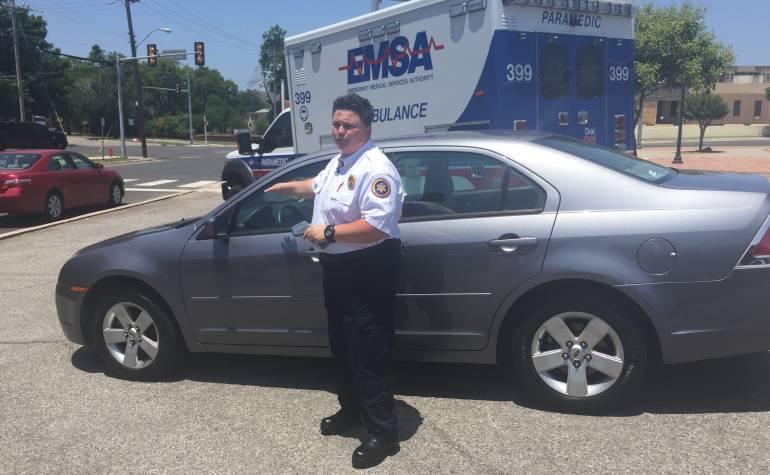 She cautions you not to make a decision to leave them assuming you won't be gone long.
"Don't think 'Just for a minute. I'm just going to be a minute. I'm going to run into the store, and I'm going to grab one item and come out' and, if you're like me, you're going to go in for one item and come out with 10," Yazdanipour said.
That makes it easy to lose track of time in the store.
"It's a very frustrating call to run when you have that child who can't do it themselves. We're looking at these calls the average are less than 2 years of age. So, they can't speak up for themselves that they've been left in the car," Yazdanipour said.
This year, since May 20th, EMSA has received 16 calls of children left in vehicles and, last year, they had 30 calls in June alone.
A few of those ended with children going to the hospital in critical condition.