This is an archived article and the information in the article may be outdated. Please look at the time stamp on the story to see when it was last updated.
CUSHING, Okla. – Cushing police are looking for a man who was involved in a bank robbery Thursday afternoon.
Officials say around 3:35 p.m., two subjects were seen at the Bank of the West in Cushing.
One stayed in the truck as the getaway driver, while the white male in the photo took the money.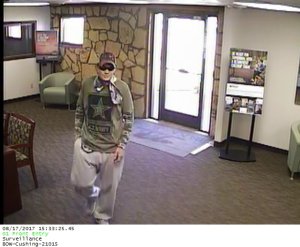 The white male is described as having an average build, 20-30 years old, around 6 feet tall. He was wearing sunglasses, a tan and black scarf around his neck, a white baseball hat, an olive green U.S. Army sweater, and gray sweatpants.
He escaped with an undisclosed amount of cash and left in the getaway truck.
The truck is described as a dirty white Ford single cab truck, that was last seen heading west into the alley behind Main St.
If you know anything, call the FBI at 405-290-7770.