This is an archived article and the information in the article may be outdated. Please look at the time stamp on the story to see when it was last updated.
OKLAHOMA CITY – A new section of the I-40 Crosstown project will open Friday, providing easier access to downtown for many Oklahomans.
Many commuters have been forced to use Pennsylvania Ave. or Western to access downtown.
However, it has been frustrating for drivers because there is so much traffic.
Now, crews say a new ramp between the Agnew-Villa and Penn exits is ready for its debut on eastbound I-40.
Rachel Caldwell said, "Every time I come to work they are working and every time I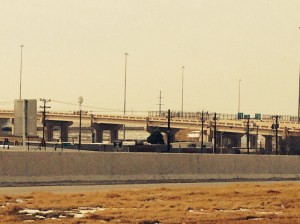 leave they are still working."
Now, that work is coming to an end.
The new exit off of I-40 will eventually be a part of the Downtown Blvd.
Brenda Perry, with the Oklahoma Department of Transportation, said, "It's going to give drivers additional access to downtown Oklahoma City."
This is the final project along the western side of the Crosstown.
Beginning Friday afternoon, drivers will be able to take the flyover ramp and then exit onto Virginia or Klein.
After exiting, they will be able to head into downtown.
Perry said, "It ends at Klein at this point because more work has to be done to the east on the Downtown Blvd."
Not only that, the new road will also allow those leaving the downtown area to jump right on to westbound I-40.
Perry said, "We're very excited because it's happening earlier than we expected."
Caldwell is one of those who plans to use the new road.
She said, "It will probably cut down on 10 minutes for me."
She is just one of the commuters who has dealt with the congestion at Penn and Western.
Caldwell said, "Even on the Penn exit or the Western exit, it's really difficult because traffic seems to build up so quickly."
Perry said, "We are hoping it will also help to alleviate some of the morning and evening drive time congestion that's experienced on Western."
This project was not scheduled to be completed until next March.
They say they hope to have it open before the afternoon rush hour on Friday.