This is an archived article and the information in the article may be outdated. Please look at the time stamp on the story to see when it was last updated.
ADA, Okla. - Officials have released a 911 call from the terrifying moment an Oklahoma father tried to drown his twin babies.
Michell Sorrells said she and Leland Foster were arguing outside of her stepfather's home Friday afternoon when Foster snapped.
"I guess the thought of not having me or his children in his life for a while made him snap," she said.
Sorrells told KXII Foster forced himself inside the house and quickly became violent.
"I'm being plowed into and I go flying a couple of feet into the house and he charges past me and goes to my children laying in the pack-n-play," she said.
Sorrells told the local news station that Foster then tried to drown her twin babies in the bathtub.
When she started to fight back, Foster hit and choked her multiple times, she said.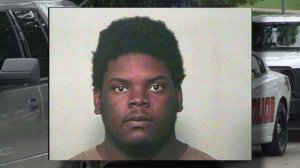 "I remember thinking, I've got to keep hitting him," she said. "I've got to get back to the babies because he turned them face down in the water again and they're going to drown."
That is when Sorrells says her 12-year-old niece ran to a neighbor's house for help and called 911.
911: Ada 911

12-year-old girl: I need help!

911: Okay, what's your address?

Girl: Um, I don't know...

911: Okay, where's your house at? Give me directions.

--------------

911: Okay, there's somebody on their way over there. What's going on?

Girl: He's trying to drown my aunt's babies and he's trying to hurt her.

911: Who's doing what?

Girl: He's trying to kill my aunt's babies and he's hurting her.

911: Who is he?

Girl: Um, Leland, I don't know his last name.

911: Do you know if anybody has any weapons that are in that house?

Girl: Yeah, he has a knife.

------------
The neighbor, Cash Freeman, rushed back over to the home to find Foster trying to drown the 3-month-old twins, a boy and a girl, in the bathtub.
He then shot Foster twice in the back with a gun.
"I hear two pops really loud," Sorrells said. "it made my ears ring, and Leland grunts 'Oh!'"
The babies were flown to an Oklahoma City hospital but have been released.
Sorrells told KXII that she is grateful for Freeman's heroic actions.
"He saved me and my babies' lives and there will not be a day that will go by that I won't thank him for that," she said.
KFOR crews spoke to Freeman off camera over the weekend and he told us when he saw what was happening in the bathroom, he did what he had to do to save the babies. However, he told us he was concerned that he could be in trouble.
Police questioned and released Freeman, but the district attorney - as is standard practice - is now tasked with determining whether the shooting was a criminal act.
However, officials told KXII that they don't expect any charges to be filed.