This is an archived article and the information in the article may be outdated. Please look at the time stamp on the story to see when it was last updated.
EDMOND, Okla. - A man was taken to jail for second-degree murder after a crash on I-35 killed a 3-year-old boy.
Officials say around 2:30 a.m. Saturday, the little boy and two adults, 20-year-old Xavier Trevon Ware, the driver, and the boy's mother, 24-year-old Alexis Ware, were traveling northbound on I-35 near 2nd St. when the vehicle swerved off the road and overturned.
A witness called 911 and several agencies responded to the scene.
"For whatever reason the driver of the vehicle ran off the right side of the roadway and the vehicle overturn. We're still trying to piece together exactly why he went off the road," said Captain Paul Timmons.
Before first responders arrived, OHP says Xavier and Alexis found the 3-year-old boy, who had been ejected from the vehicle, and left the scene on foot.
Approximately one hour later, Xavier and Alexis "flagged down a motorist in Logan County requesting assistance for the 3-year-old child."
The 3-year-old boy was taken to the hospital where he later died.
"When you see a young victim like that is just really kind of tugs at your heart strings," said Timmons.
OHP troopers took Xavier Ware into custody. Officials say he refused to provide a sample of his blood. Troopers obtained a search warrant and a sample was obtained.
"We have indicators there may possibly been alcohol involved in this collision," Timmons said.
Xavier was taken to the Oklahoma County jail for second-degree murder and child endangerment DUI.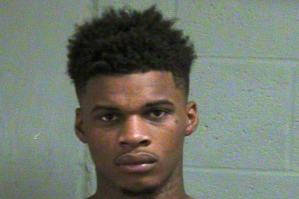 OHP is needing any witnesses who observed the collision or two adults carrying a child to call 405-425-2323.