This is an archived article and the information in the article may be outdated. Please look at the time stamp on the story to see when it was last updated.
OKLAHOMA CITY – Is it too early to prepare for Christmas? Holiday Pop-Up Shops certainly doesn't think so!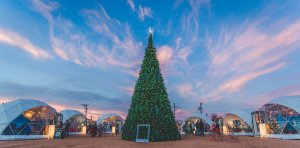 @okcpopups on Instagram posted the shop schedule for all of your Christmas shopping needs.
The pop up shop runs from November 23 – December 23 with the stores changing every week.
Week one: Savvy, Urbane, Exhibit C, Gathered Home, Robinson's Repurposed, Mustang, Creek Alpacas, DNA Galleries, Coki Bay, and BONE.
Week two: Fête, Blue Seven, Cargo Room, OKcollective, Commonplace Books, Harper & Grey House, Oh Honey Paper Co., Green Bambino, and Local Leather.
Week three: Blush, Tulips, AMP Variety, 42nd Street Candy Co., A Date with Iris, Siempre Viva, Salt & Water, The Okay See, and Rosegold.
Week four: Mode, Fruition, udånder, STEMcell Science Shop, TRADE Men's Wares, Apple Tree Chocolate, Pin and Paper, Shop Good, and Heenan's.
Week five: PLENTY, The Social Club, Woodsman Trading, The Black Scintilla, Woody Candy Co., Out on a limb, and Anabelle's.
As always, there will also be food trucks each week to warm you up with cocoa or beer as well as sweet and savory treats.
The shops will be back at the corner of 10th and Hudson in Midtown.