This is an archived article and the information in the article may be outdated. Please look at the time stamp on the story to see when it was last updated.
OKLAHOMA CITY -- What a wonderful way to start off the weekend for Wayne Covey of Oklahoma City. He was one of five finalists as part of the Bob Moore I've Got Drive Blood Drive Car Giveaway at Bob Moore Chrysler Jeep Dodge Ram in Oklahoma City.
Covey (pictured taking key from fish bowl) reached into a fish bowl and grabbed a key.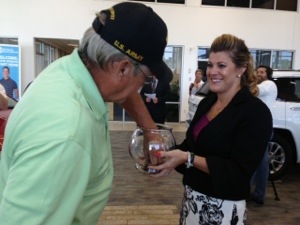 He sat down inside the car, turned the key and the engine started. He jumped out and cheered. When asked what it felt like to win a new car he said, " It is amazing. I can't believe it. It was unbelievable and it's red, too."
Covey who has donated blood to the Bob Moore I've Got Drive Blood Drive for the past several years promised his grand-kids he would take them for a nice, long drive after winning the car.
The Bob Moore Auto Group has supported this successful blood drive working with the Oklahoma Blood Institute for more than 10 years. "
Giving away a car is life changing and it represents a lot of lives changed. We are excited, extremely excited to be a part of this," said Bridgette Fitch, Public Relations coordinator for the Bob Moore Auto Group.
Congratulations to Wayne Covey for winning a brand new Dodge Dart. He also encourages everybody to donate blood because he knows it helps people when they need it most.