This is an archived article and the information in the article may be outdated. Please look at the time stamp on the story to see when it was last updated.
OKLAHOMA CITY - A record 24,752 people took to the downtown streets Sunday morning for the 13 annual Oklahoma City Memorial Marathon, with two native Oklahomans claiming victory.
For the second year in a row, University of Oklahoma dental student Jake Buhler crossed the finish line to win the men's marathon.
It took Buhler a little over two hours, 26 minutes to run the 26.2 mile course.
Buhler said he's having a pretty good year, considering he and his wife just had their first child.
Not to be outdone, Oklahoma State University graduate student McKale Davis grabbed the win for the women, sporting red socks in honor of the Boston marathon bombing victims.
Davis crossed the finish line in a little more than two hours, 53 minutes.
Davis is no stranger to winning.
She's won the women's half marathon for the past three years but this is her first time to win a full marathon.
Before the race, everyone paused for the ceremonial 168 seconds to remember the 1995 Alfred P. Murrah Federal Building bombing victims and an additional three seconds for those killed at this year's Boston marathon.
Everyone had their reasons for running.
"To represent the 168 people killed," William Lindsay said. "We're all firefighters from Stillwater. We wanted to make sure we got our two cents in."
For some, what recently happened Boston provided inspiration as well.
"It's just a spectacular atmosphere, especially after the Boston marathon bombing," Michael Edmonds said. "I just really wanted to be out here and finish strong for Boston."
Then there are those who are really close to this celebration of life.
Carmen Lyon handed out medals for all the runners.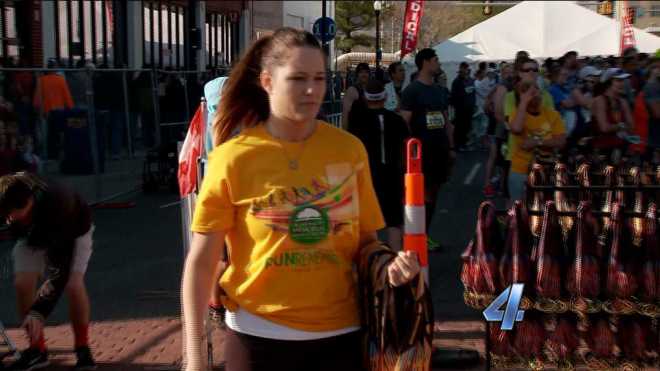 It's her way of saying 'thank you for being here today,' because on April 19, 1995, she was just 5 years old in the YMCA day care when the bomb went off.
"It's hard at times but you've just got to keep moving on and God's with me, so no worries," Lyon said. "I think it's awesome. I think it's great."
This was her first time handing out medals and thanking the runners.
"To give back to all the people who have helped me," she said. "So I thought this would be a great way to help."
It's that kind of effort that made runner Tiffany Ortega emotional.
"It's really nice to come be a part of something like this and be able to support all the survivors," she said. "It brought me to tears several times just running, just imagining what they went through."