This is an archived article and the information in the article may be outdated. Please look at the time stamp on the story to see when it was last updated.
UPDATED: 10/2/14 3:57 P.M.
OKLAHOMA CITY –  Oklahoma City police have issued an arrest warrant for both of the 'bumbling burglars'.
Surveillance captured video of two suspects breaking into a Subway restaurant at 2720 SW 29th Street twice.
Police say between burglaries, the female suspect, who has now been identified as Tara Bradley,32, changed her clothes.
Police say they want to thank the citizens of Oklahoma City for all the tips and calls they received in reference to this case on Wednesday.
Due to the tips, police say Tara Bradley was quickly identified as the woman in the video, and a warrant was issued for her arrest.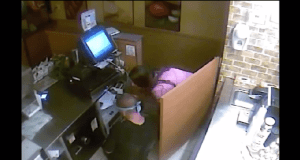 Officers have identified the male suspect as 34-year-old Christopher Trip.
Anyone with information to the suspects' whereabouts should call 911 (if you know their exact location at the time you call) or Crime Stoppers 405-235-7300 (with general information).
ORIGINAL STORY:
OKLAHOMA CITY – Oklahoma City Police are looking for two burglars who they say had a bit of trouble committing the crimes.
Police say the pair struck at a Subway restaurant at 2720 SW 29th, not once, but twice.
According to officers, the female suspect takes time between burglaries to change clothes.
Surveillance video shows the male suspect fall, but never lets go of his cigarette as he hits the floor.
The male suspect may have a bit of a headache, after a power cord from the cash register smacked him on the head.
Police say the female suspect has distinctive tattoos on her lower left leg and lower back.
The lower back tattoo was revealed on the video when the suspect shirt slides up while allegedly trying to break open the safe.
Anyone who recognizes either of these two suspects should call CrimeStoppers at 405-235-7300.