This is an archived article and the information in the article may be outdated. Please look at the time stamp on the story to see when it was last updated.
OKLAHOMA CITY – A woman is stabbed by her ex-boyfriend and her 11-year-old daughter comes to the rescue, according to police.
An Oklahoma City man is hospitalized after being shot multiple times by the 11-year-old girl.
Police say the suspect attacked and stabbed the girl's mother inside the victim's home near SE 89th and Bryant.
After being shot, the suspect ran outside of the home but didn't get far.
The wounded suspect collapsed in the street and police took him into custody.
The home's back door is still smashed after the man broke inside and began stabbing his ex-girlfriend.
"He stabbed her in the eye, neck and the chest," said neighbor Carolyn Marsee.
Seeing the violent assault, neighbors say the victim's 11-year-old daughter grabbed a gun and shot the attacker multiple times inside the home.
"What she did, the 11-year-old, was amazing," said Shiree Marsee.
After the shooting police rushed Leonardo Henry, 25, to the hospital and will soon book him into the Oklahoma County jail.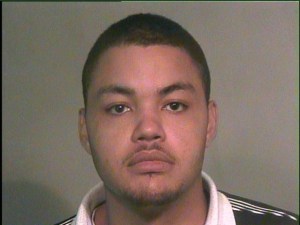 "I hope a judge puts him away for a long time, because he doesn't need to be on the streets," said Shiree.
According to a protective order, the victim claimed Henry "had been molesting (several kids) in the middle of the night for several years."
The victim added one week ago she "was afraid he is going to hurt her and the children because she reported the abuse."
"It's gruesome. It makes me sick," said Henry's sister Emma Spence.
Emma hates to admit it, but says her brother may be guilty of the sexual abuse.
"Kids don't lie about that stuff," said Emma.
Given that history, and the violent nature of the assault overnight, Emma believes the little girl had every right to pull the trigger.
"I salute her. It was awesome that she did that for her mom," said Emma.
"I could care less if he dies, because what he did was very wrong," said Carolyn.
Both the victim and the suspect are expected to survive their wounds.
As for the girl, it's not likely she'll face any charges.
Oklahoma City police say right now the shooting appears to have been completely justified.