This is an archived article and the information in the article may be outdated. Please look at the time stamp on the story to see when it was last updated.

OKLAHOMA CITY – A fight for student safety at a local school is heading to the Oklahoma City council.
Leaders of the Antioch Christian Academy, near S.W. 119th St. and Portland, asked city leaders to install a school zone and traffic light nearby.
School leaders hoped to replace a traffic sign with a traffic light.
A wood cross sits close to where a mother died teaching her teenage daughter to drive earlier this year.
"The child pulled into the front of somebody and got broadsided and if there was a light there it may have been avoided," Cindy Megonigle said.
That deadly accident is one reason why Cindy lobbied for a traffic light and school safety zone to be built.
"To provide safety for younger kids, we need to control the intersection better," Megonigle said.
Cindy said because the intersection sits just off I-44, drivers often go faster than the legal limit of 45 miles per hour.
"The frame of mind of people getting off I-44 is 'let's go fast,'" Megonigle said.
"Safety is first and foremost when we analyze these things," Oklahoma City traffic engineer Stuart Chai said.
Still, Chai said after studying the intersection, engineers didn't see enough foot traffic to justify a school zone nor enough total accidents to spend the money on a new light.
"There's not enough traffic through the intersection for this to be a good candidate for signalization," Chai said.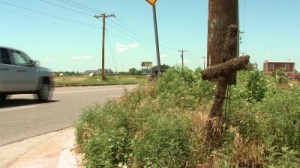 "It's difficult for us to go against the traffic commission recommendations," Oklahoma City councilman David Greenwell said.
In the end the city council unanimously agreed not to make improvements to the intersection.
Yet councilman Greenwell did suggest there may be room for compromise by increasing police enforcement of speed limits and maybe lowering the legal speeds.
"The level of development is getting close to where we could look at speed limit reduction," Chair said.
City engineers said the deadly wreck back in March was the only fatal collision at the intersection dating back to 1998.