This is an archived article and the information in the article may be outdated. Please look at the time stamp on the story to see when it was last updated.
It's a dream factory of sorts for those who dream of walking again.
Joe Young directs the Frances Tuttle program to train future prosthetists.
Twelve-year-old Lucky Britton said he'd like to grow up to make artificial limbs for kids.
We introduced you to Lucky last month; a boy who is thriving despite the many obstacles he has had to overcome is his young life so far.
Lucky lost his own leg in a lawn mower accident when he was four but with the help of prosthetics, and his own determination, he has trained to become a medal-winning wrestler.
"I saw the video clip and immediately was taken by the maturity of Lucky," Dr. Tom Friedemann said, Frances Tuttle superintendent. "I thought maybe we have the training program just for that."
Dr. Friedemann arranged a tour for Lucky.
The center's orthotic and prosthetic training program is one of only four in the country where metal replaces bone and limbs are created by hand instead of nature.
There was a special ending to Lucky's tour; a surprise scholarship for him to train at Frances Tuttle when he's older.
"My hands are sweating right now," Lucky said. "I don't know what to say. Thank you, a lot. Thank you, everybody."
"This just seemed like a perfect match," Dr. Friedemann said. "We're all about connecting dreams to training to jobs."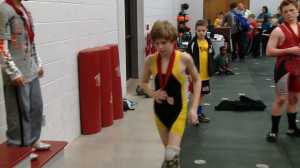 Renowned prosthetist Scott Sabolich has worked with Lucky helping with his leg through the years seeing success in his future.
"If you are an amputee, you can help somebody and know what they're doing through," Sabolich said. "Lucky has the advantage of being an amputee helping other amputees. He can bring more compassion than I ever could.
For Lucky, it's a chance to change lives for other amputees as his life was changed.