This is an archived article and the information in the article may be outdated. Please look at the time stamp on the story to see when it was last updated.
ENID, Okla. – Today, area residents participated in ceremonies to debut Oklahoma Blood Institute's (OBI) new bloodmobile at its Enid donor center.
The state-of-the-art coach will begin traveling many miles weekly to make it convenient for people across the area to give blood.  It will typically be on the road five days a week, visiting outlying towns, businesses, schools and other locations.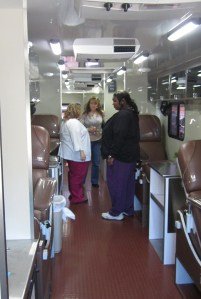 The bloodmobile features
three private booths for donor screening,
four donor recliners that can be positioned so that a donor can give with the preferred arm nearest to a phlebotomist,
two chairs for post-donation rejuvenation with refreshments and
technology to enable people to give a double red blood cell donation, if desired.
The new bloodmobile will be used at these upcoming blood drives:
Hennessey High School, March 12, 9 a.m. to 3 p.m.
Ward Petroleum, March 14, 8:30 a.m. to 11:30 p.m.
Central National Bank, March 21, 9 a.m. to 1 p.m.
A complete list of OBI blood drives is available HERE.
Every drop of blood needed by patients in 14 hospitals in northwest Oklahoma, including Enid's Integris Bass Baptist Health Center and St. Mary's Regional Medical Center, is provided by donors with OBI.
Oklahoma Blood Institute is the ninth largest, non-profit blood center in the United States.
It serves patients in 141 medical facilities across the state.