This is an archived article and the information in the article may be outdated. Please look at the time stamp on the story to see when it was last updated.
OKLAHOMA CITY – An Oklahoma City homeowner is in serious condition after being attacked by a dog on Sunday afternoon.
Officers were called to the 1200 block of N.W. 45th St. around 1:40 p.m. Sunday after witnesses reported a vicious dog attacking a homeowner.
"This is our dog atlas and he's 5 years old and we adopted him about 3 years ago," Shelley Hudson, the dog's owner said.
Officials say the dog snapped in seconds, attacking the very person who feeds him.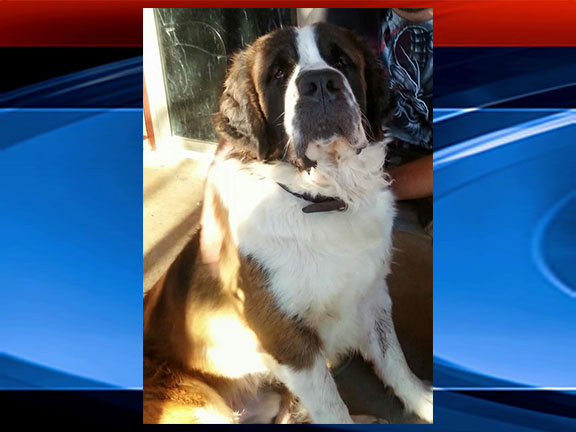 Hudson says it all started over an argument involving text messages.
"This started because my husband and I were just cleaning up the house," Hudson says. "I walked over to my husband and asked him if I could see his phone, I was just suspecting something on his phone and I wanted to see it."
The couple started arguing over the cell phone.
"I wanted to see it and he refused to show me, so I hollered at him," Hudson says. "When I hollered again, my dog who had been in the other room, the back laundry room."
The giant saint bernard, Altus, got wind of the yelling and came running in.
"[He] ran past me and ran up to my husband and attached himself right onto his arm and bit him," Hudson said.
The dog wouldn't let go.
"The dog kept just biting deeper and deeper, almost gnawing on his arm," Hudson said.
This woman's husband tried everything to get the dog off, the scuffle spilled onto the porch.
"That's where I believe the dog tore into my husbands arm worse, there was a whole lot of blood and my husband hollered for me to call 911," Hudson remembers.
Police arrived, tasering the dog at least twice, he finally let go then charged at officers, who then shot the dog five times.
"It's our family member, I was worried for my husband of course, but I was scared because they shot the dog, and he's our baby, he's our pet," Hudson says.
The owner did say the same dog attacked her husband about a year and a half ago.
They said they wanted to keep it to give it a second chance.
The dog was treated at the scene and taken to a vet for further treatment.
The homeowner was gravely injured and was taken to a nearby hospital in serious condition.