This is an archived article and the information in the article may be outdated. Please look at the time stamp on the story to see when it was last updated.
OKLAHOMA CITY-  An Oklahoma City police officer charged with concealing a federal crime and lying to investigators looking into an interstate theft ring has been acquitted of the charges.
News 4 first learned about the case in January of 2017 when Amanda Czermak was charged with conspiracy to sell items she stole outside of Oklahoma, in the state.
Then in March and again in June, several more defendants were added to the case, including Dakota Epperly, Auston Slater, Dakotah Henderson, David Aduddell, and popular home builder Dennis Lee.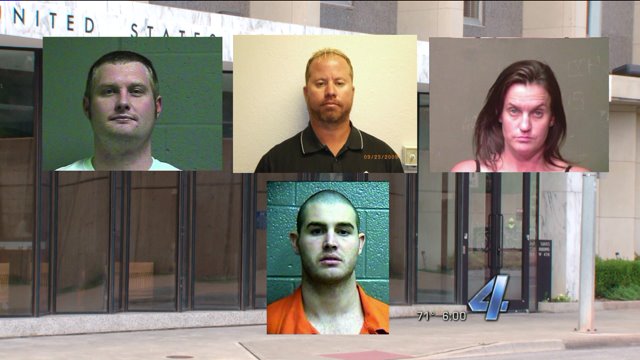 The indictment alleged that between 2015 and 2016, some of the individuals received property stolen from other states, including ATVs, utility task vehicles, rough terrain vehicles, and zero-turn lawn mowers from other states, and brought the stolen property to Oklahoma with the intention of selling them inside the state.
In all, the stolen property is valued at $325,000.
In September,  an indictment alleged that Oklahoma City Officer Weston Slater used a police computer to determine whether a pickup truck had been stolen in Texas, warned a co-defendant of the law enforcement investigation and lied to the FBI during the investigation.
Earlier this year, he pleaded not guilty to the charges.
According to court documents, a jury determined that Slater was not guilty of conspiracy to violate the law, misprision of a felony or making a false statement.
"The Defendant was found not guilty as to Counts 1, 2 and 3 of the Superseding Indictment returned on April 3, 2018. IT IS ORDERED that judgement is entered in favor of the Defendant, and the Defendant is ACQUITTED AND DISCHARGED, and any bond exonerated. The Indictment returned on September 20, 2017 and the Superseding Indictment returned on April 3, 2018 are DISMISSED," the order reads.
Slater had been on paid administrative leave from the Oklahoma City Police Department while the case played out in federal court.