This is an archived article and the information in the article may be outdated. Please look at the time stamp on the story to see when it was last updated.
OKLAHOMA CITY – When  a police officer is 'caught on camera,' many people immediately assume they have done something wrong.
Recently, an Oklahoma City sergeant was caught on camera performing an act of kindness for a stranded motorist.
Alicia Morgan says she was on her way to Chickasha when she ran out of gas near I-44 and 89th St.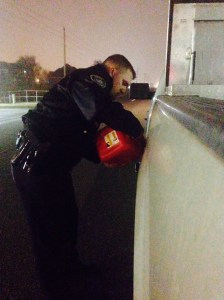 She says she was near a gas station but had no way of moving her vehicle and trailer across the two lanes of traffic to a pump.
Seeing no other option, Morgan says she ran into the Love's convenience store and purchased a gas can.
After paying for the gas and the can, she ran outside to see two patrol cars behind her vehicle.
As she told them about her predicament, Sgt. Corey Carden, with the Oklahoma City Police Department, told her he would wait with her until she could get her car running.
Morgan says it was around 11 p.m.  and she didn't have a funnel for the gas can.
At that point, Sgt. Carden made a makeshift funnel and put the gas into her vehicle so she wouldn't get gasoline all over herself.
Morgan snapped a photo of Sgt. Carden's kind act and shared it on her Facebook page, saying she simply wanted to say thank you to those who serve the community every day.
The photo has since been shared hundreds of times.