This is an archived article and the information in the article may be outdated. Please look at the time stamp on the story to see when it was last updated.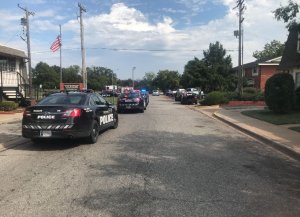 OKLAHOMA CITY – A suspect who was shot by Oklahoma City police officers Wednesday afternoon has died.
Police confirmed the death of the suspect who was shot after he pointed his gun at officers in the 3100 block of Northwest 41st Street.
Two officers fired on the suspect, who has not yet been identified. Both officers have been placed on paid administrative leave.
Police were called to the scene regarding a man with a gun at an apartment complex near Northwest 41st Street and Drexel, according to Sgt. Megan Morgan, assistant public information officer.
"The suspect was shot by officers and transported to a local hospital. Officers are all okay. We are not aware of any other shooting victims at this time," Morgan said.
Two people were transported to a hospital, including the suspect.
Gunshots struck some windows of vehicles parked at the scene.
The shooting may have resulted from a domestic disturbance, police said.
Neighbors told News 4 that they heard multiple shots fired.
Stay with News 4 as this story develops.