This is an archived article and the information in the article may be outdated. Please look at the time stamp on the story to see when it was last updated.
OKLAHOMA CITY –  Oklahoma City police are looking for a man who is accused of killing his father and sister.
Officials say Ronald Dean Milton Jr. is wanted in connection to the double homicide.
On April 14, around 11:30 a.m., police were called to the area near Western and Hefner Rd., after two people were found dead inside of a home.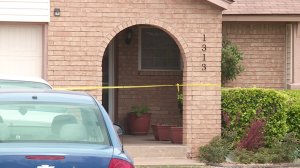 When officers arrived, they found 63-year-old Ronald Dean Milton Sr. and 39-year-old Brandy Maria Milton dead.
Milton Jr. was Milton Sr.'s son and Brandy's brother.
Police said both victims had trauma consistent with homicide.
Milton Jr.'s white 2004 Isuzu Rodeo, with the Oklahoma tag EDK241, is still outstanding.  Police say the vehicle should have significant damage on the hood.
[protected-iframe id="e19058f66887df20ff50cb3f8442b84e-29519643-98557584″ info="https://www.facebook.com/plugins/post.php?href=https%3A%2F%2Fwww.facebook.com%2Fokcpd%2Fposts%2F10156408106629169&width=500″ width="500″ height="828″ frameborder="0″ style="border: none; overflow: hidden;" scrolling="no"]
He is considered to be violent, armed and dangerous. His whereabouts are unknown.
Authorities say Milton Jr. has two active Oklahoma County warrants for first-degree murder.
Anyone who knows his whereabouts should call 911 immediately.
If you have any other information, call the homicide tip line at 405-297-1200.