This is an archived article and the information in the article may be outdated. Please look at the time stamp on the story to see when it was last updated.
OKLAHOMA CITY - The Oklahoma City Police Department has released the 911 calls related to a car crash that killed the former CEO of Chesapeake Aubrey McClendon.
On Wednesday, firefighters were called to a car wreck on Midwest Blvd., between Memorial and 122nd St.
Multiple people called 911 to report an SUV caught fire after crashing into an overpass embankment.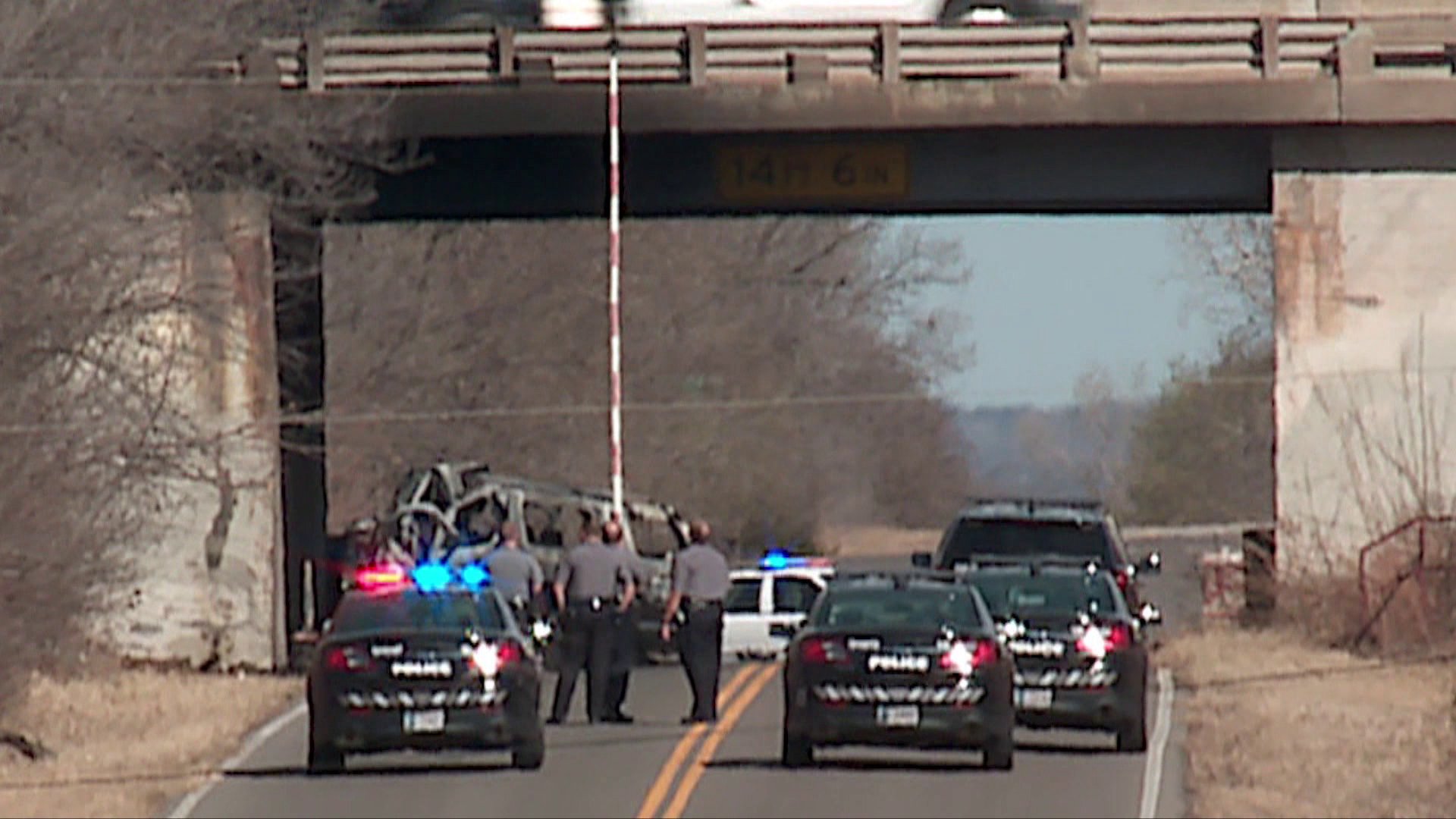 First 911 call: 

Dispatcher: Oklahoma City 911

Caller: Yeah, I just saw somebody have an accident on Memorial Road and Midwest Blvd. just south of the intersection.

Dispatcher: Memorial and Midwest just south? Do you know if there are injuries?

Caller: I don't know, I just saw it from about a quarter-mile away. I haven't driven up on it yet.  I am about to go do that..... It looked pretty bad, I'm gonna drive up on it now.  It looks like an SUV, kind of a dark color SUV, black.

Dispatcher: Black SUV. What's the other vehicle?

Caller: It was a single vehicle accident. It looks like they just hit the side... it looks like a Tahoe and it looks pretty rough. The accident looks pretty bad.  It looks like they hit the side of - do you know where the turnpike crosses over Midwest Blvd?- it looks like they hit that. The car looks like it might be on fire.  

Dispatcher: Did they hit a barrier or what?

Caller: They went under the... there's an underpass on Midwest Blvd. that goes under the turnpike.  It looks like they swerved and hit that.

Dispatcher: Let me know if you are able to tell how many people might be inside. What's your name?

Caller: My name is --------------.

Dispatcher: You think the car is on fire?

Caller: Yeah, I do see the car is on fire.

Dispatcher: Ok, we got a lot of help that way.

Caller: Ok, you might definitely want to send an ambulance and a fire truck as well.

Dispatcher: Yeah, they are on the way.  If you find out that maybe there are several injured, like needing more than one ambulance, call us right back, ok? And pull your vehicle safely out of the way, right?

Caller: Yeah, I'm off the side of the road.

Dispatcher: Ok, thank you.

CALL ENDS
On Wednesday, Capt. Paco Balderrama confirmed that Aubrey McClendon was traveling at a "high rate of speed," well over the posted speed limit when he crashed into a bridge in the area.
"He pretty much drove straight into the wall," Balderrama said. "The information out there at the scene is that he went left of center, went through a grassy area right before colliding into the embankment. There was plenty of opportunity for him to correct and get back on the roadway and that didn't occur."
Balderrama says McClendon died instantly from the crash. After that, the 2013 Chevy Tahoe caught fire.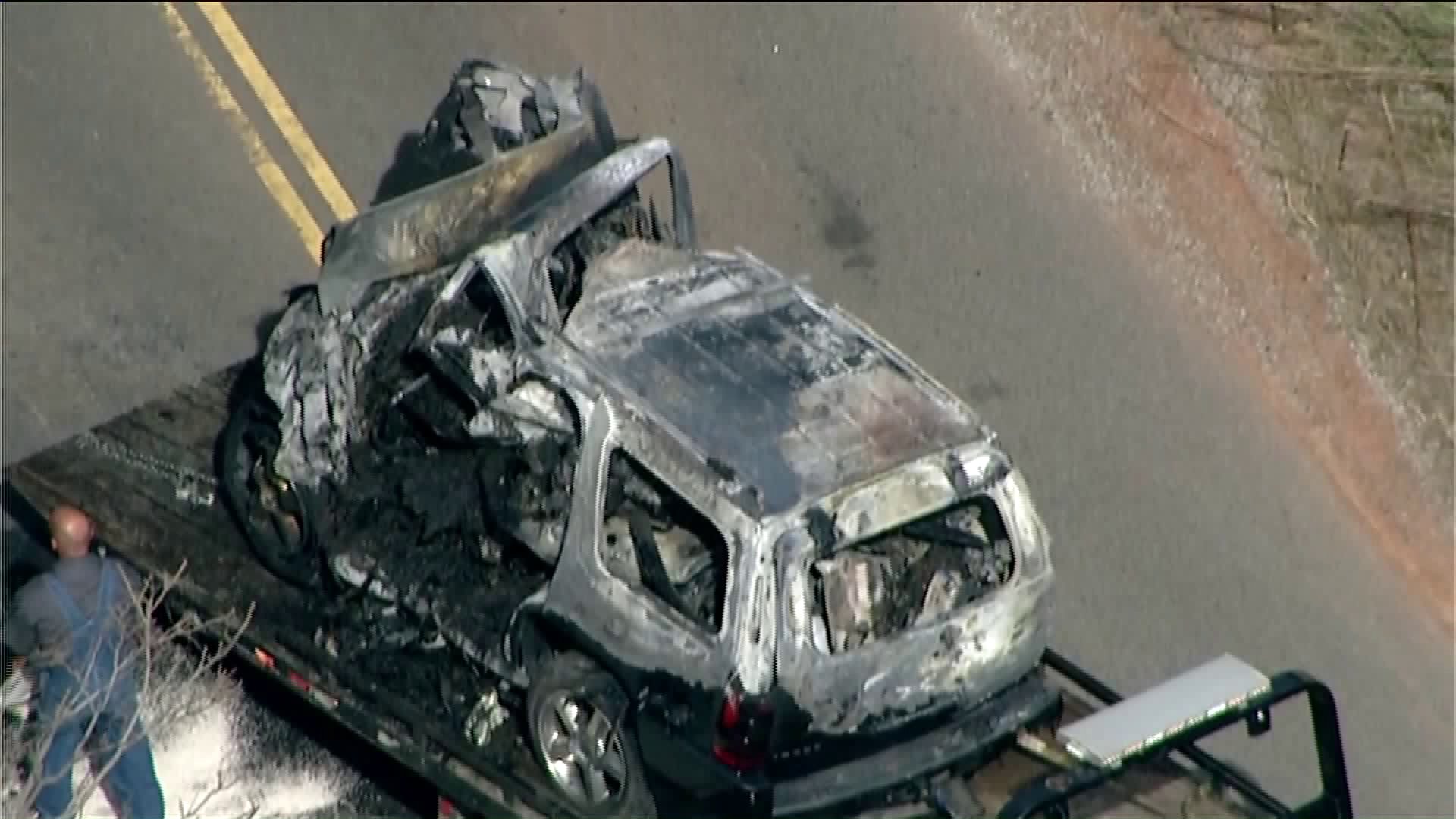 Second 911 call: 

Dispatcher: Oklahoma City 911

Caller: Hey, I'm driving right now. There is a very serious accident at Midwest Blvd. and Memorial underneath the bridge.... there is a Tahoe that is completely impacted within... the cab is completely crushed.

Dispatcher: Oh my goodness, Ok. Under the turnpike?

Caller: Yeah, the vehicle is on fire.

Dispatcher: Ok, so the Tahoe is on fire?

Caller: Yeah. There are two guys running up to the car right now.

Dispatcher: Ok, we will get it reported. Are you guys involved? 

Caller: No, we just pulled on to it.

Dispatcher: Does it look like anybody is in that car?

Caller: We can't tell, there looks like there is either a nurse or a doctor here. The fire is really escalating.

Dispatcher: Ok, we will get it reported. Thank you.

CALL ENDS
Police say they should have a full accident report in a couple of weeks.
Investigators are also looking into the car's computer technology, hoping to find out more answers.
The fatal car crash occurred less than 24 hours after McClendon was indicted by a federal grand jury.
Police say they should have a full accident report in a couple of weeks.
On Tuesday, the Department of Justice announced that Aubrey McClendon was charged with conspiring to rig bids for the purchase of oil and natural gas leases in northwest Oklahoma.
The indictment claims that McClendon orchestrated a conspiracy between two large oil and gas companies to not bid against each other for oil and natural gas leases in northwest Oklahoma.
The conspiracy allegedly ran from December 2007 to March 2012, during which time he was CEO of Chesapeake Energy.
McClendon released the following statement on Tuesday, regarding the indictment:
"The charge that has been filed against me today is wrong and unprecedented. I have been singled out as the only person in the oil and gas industry in over 110 years since the Sherman Act became law to have been accused of this crime in relation to joint bidding on leasehold.  Anyone who knows me, my business record and the industry in which I have worked for 35 years, knows that I could not be guilty of violating any antitrust laws.  All my life I have worked to create jobs in Oklahoma, grow its economy, and to provide abundant and affordable energy to all Americans. I am proud of my track record in this industry, and I will fight to prove my innocence and to clear my name." – Aubrey McClendon
McClendon, 56, retired from Chesapeake in 2013 and became the CEO of American Energy Partners.
Click here to read the full transcript of the five 911 calls released by the Oklahoma City Police Department.
MORE: How Aubrey McClendon changed Oklahoma City