This is an archived article and the information in the article may be outdated. Please look at the time stamp on the story to see when it was last updated.
OKLAHOMA CITY - A new proposed fee for builders would raise millions for city infrastructure and parks, but some contractors worry it could drive new businesses away.
Oklahoma City leaders are considering adding a 'Development Impact Fee' on top of building permits for new construction projects to raise revenue as commercial and residential development pushes outward.
The city's planning director said the bonds that fund infrastructure now just aren't cutting it.
"As our city grows, we have to spread those funds over a larger and larger areas," said Aubrey Hammontree. "We're looking to diversify our funds by charging development for the cost it's providing to the city to put new infrastructure into place that serves that development."
For years, Hammontree said she's worked with contractors to develop a fair system that can also help the city.
Currently, developers do not pay Impact Fees.
If City Council approves, the fees would be assessed based on location and building use.
The money raised - estimated at a total of $8.7 million - would be used for:
Streets
Park Systems
Water
Wastewater
Storm Water
Transit
Fire
Police
"It's creating a balance, because we realize there is a need there for improved infrastructure funding as well as funding for parks and trail systems," said Rusty Appleton, executive officer of the Central Oklahoma Home Builders Association.
The COHBA will be supporting the ordinance, he said.
Appleton acknowledges the cost of building will increase.
For a 2,000 square foot home, he estimates the cost would jump by $2,700.
But, he said the big picture is brighter if the fees can bring an improved standard of living.
Not all contractors see it that way.
Jeff Van Hoose, president of Van Hoose Construction, is worried about the burden the fees will add to an industry where costs are already running higher.
"The end result is pretty simple: Oklahoma City will lose a lot of good businesses, because they will go to surrounding areas and pay less," he said. "We're going to lose business. They're going to go to the other cities. Our sales tax revenue will go down. Our job growth will go down."
To estimate costs, Van Hoose ran the numbers through a hypothetical 100,000 square foot building.
He said now a permit would cost him $32,800.
That cost would jump to $232,800 if the development fee were passed.
"These fees are not just a little more than what we're paying now," he said. "In most cases, they're like eight times what we're paying now."
Development Impact Fees are not uncommon in other cities around the country.
The city estimates, even if its fees were adopted, Oklahoma City would still sit below the national average.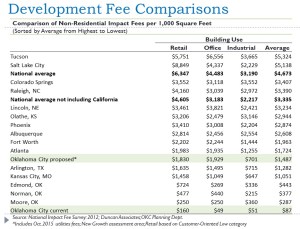 On Tuesday, the council agreed to push a hearing back 60 days, so that it could talk further with contractors.
A public hearing is now set for Mar. 29.