This is an archived article and the information in the article may be outdated. Please look at the time stamp on the story to see when it was last updated.
OKLAHOMA CITY – The Oklahoma City Zoo is mourning the loss of one of their adult giraffes.
The zoo announced over the weekend that Bogy, a 15-year-old male Rothschild's giraffe died at the Oklahoma City Zoo Saturday evening, October 24, 2015.
Bogy had reportedly been under medical supervision for more than a year because of recurring gastrointestinal issues.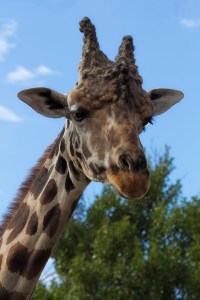 He had undergone a full medical exam in June 2015 with nothing conclusive regarding his medical condition.
An animal autopsy is being conducted to help determine the cause of death.
Other herd members include Bogy's mom Ursula, 30, Noel, 27, Ellie, 15 and his offspring Julu, 4-months.
Zoo officials say other members of the giraffe herd are behaving normally.
The giraffe feeding platform will be open as weather permits and is beneficial to the animals to keep them in a normal routine.