This is an archived article and the information in the article may be outdated. Please look at the time stamp on the story to see when it was last updated.
Oklahoma City— It's bigger, it's better…it's REDDER than ever before as the Oklahoma AIDS Care Fund presents the 23rd Annual Red Tie Night, being held Saturday, March 7th,  in the Grand Ballroom of Oklahoma City's Cox Center. The evening begins at 6PM with cocktails, followed by dinner, a live auction, and dancing until midnight.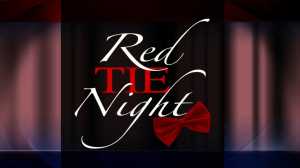 Red Tie Night is the sole fundraiser for the Oklahoma AIDS Care Fund.  The fund was started in 1991 by late Oklahoma City businessman Jackie Cooper and his wife Barbara. The event has grossed more than $11 million dollars throughout its history, with 100 percent of the proceeds going to help thousands of Oklahomans living with the disease.
Last year, the OACF awarded grants totaling more than $600,000 to state projects and initiatives throughout Oklahoma.
Funds raised at the event allow the OACF to provide valuable resources to projects that promote HIV testing, education and follow-up care like medication, housing, food, and other forms of support.
Purchase tickets to Red Tie Night by phone at 405.348.6600 or online at