This is an archived article and the information in the article may be outdated. Please look at the time stamp on the story to see when it was last updated.
OKLAHOMA CITY – Move over Grumpy Cat; Sauerkraut kitty is the next big thing.
"She's more sarcastic than grumpy," Sauerkraut's human mom, Amy Bender, said.
This local kitty has become the cat's meow on the Internet.
"She slowly got some followers and she had about 30,000 until someone did a Buzzfeed and that's when everything went crazy," Bender said.
Now, she's featured on Time.com, People and CNN to name a few just in the last month. It's all because of her furrowed face.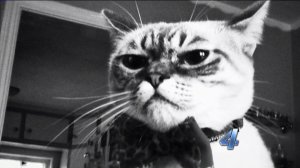 "She's going to have whistle stop tours so her fans can see her. Our first stop will be Roswell, N.M. because everybody says she looks like an alien,"  Bender said.
So what makes Sauerkraut look like such a sour puss?
"She also has some neurological disorder, which makes them non-reactive to situations like loud noises. She doesn't care. She doesn't care about big dogs. She doesn't care," Bender said.
The viral sensation has humble beginnings at the Central Oklahoma Humane Society.
"When Sauerkraut came into our programs, Sauerkraut had some challenges, so we knew Amy was the perfect person to take Sauerkraut in," Abby Harris, at the Central OK Humane Society, said.
Amy Bender, Sauerkraut's mom, is nominated for the Purina Cat Chow Shelter Volunteer Contest.
She is the only nominee from Oklahoma and we are asking for votes.
If she wins, OK Humane will receive $25,000 for a shelter makeover to benefit cats and kittens.
You can vote until March 15.
For more information on Sauerkraut, visit her website.