This is an archived article and the information in the article may be outdated. Please look at the time stamp on the story to see when it was last updated.
HOMINY, Okla. – A correctional officer at an Oklahoma prison reportedly caught an inmate attempting to smuggle in what prison officials are calling "one of the largest attempted contraband drops of the year."
Around 8 p.m. on Dec. 25, prison officials say a correctional officer at the Dick Conner Correctional Center saw inmate Marcus Mitchell (670365) walking across a common area inside the facility with a large bag filled with items.
When the officer stopped Mitchell, he gave up the bag without incident.
Officials say the officer found the bag was filled with 12 items.
Among the items were six footballs and two basketballs.
Upon further inspection, officials at the facility found the balls had been cut open, filled with contraband and taped shut, making the items easier to throw over the fence.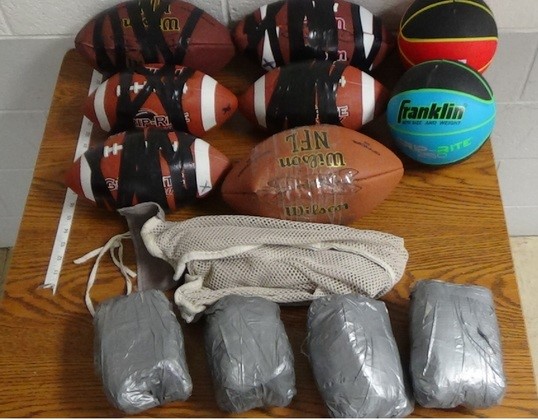 A review of perimeter security footage shows individuals outside the fence throwing the packages over shortly before the inmate was caught inside the prison with the items.
The individuals are unidentifiable from the footage.
The DOC is investigating in an attempt to learn more information about the drop.
Corrections Director Joe M. Allbaugh commended the officer's diligence and said if the individuals are caught, the department will take action.
"I thank the vigilant correctional officer for his attention to detail and swift action," Allbaugh said. "Cellphones are one of the most dangerous things an inmate can get their hands on while in custody. They are able to harass victims, continue a criminal enterprise or communicate with other inmates to alert them of officers' movements.
"We will ensure this inmate and the other inmates the contraband was intended for will receive proper punishment and time added to their sentences. Additionally, if we catch the individuals responsible, we will press criminal charges and prosecute them to the furthest extent of the law."
The following items were found inside the bag:
5 Packages of rolling papers
If individuals have information or would like to submit a tip on this investigation, they are asked to call the DOC Office of the Inspector General at (405) 425-2571.
All information obtained is kept strictly confidential.