This is an archived article and the information in the article may be outdated. Please look at the time stamp on the story to see when it was last updated.
OKLAHOMA CITY – An Oklahoma County deputy was involved in a three car accident in northeast Oklahoma City Wednesday.
Just before 11 a.m., three cars were involved in an accident at the intersection of N.E. 50th and Hiwassee.
One of the cars involved is an Oklahoma County Sheriff's Deputy vehicle.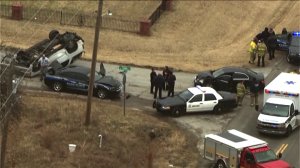 Investigators say the collision was caused by the driver of the Tahoe who failed to yield to oncoming traffic.
Oklahoma County Sheriff's Office officials say Tahoe collided with a Honda, which then caused the Tahoe to roll onto the top of the deputy's vehicle.
Three people suffered minor injuries, including the deputy.
As of now, officials say no citations have been given and the investigation is ongoing.