This is an archived article and the information in the article may be outdated. Please look at the time stamp on the story to see when it was last updated.
OKLAHOMA CITY – Several teams from Oklahoma headed to the East Coast last week to assist with recovery from Hurricane Florence.
On September 14, the Oklahoma Task Force Swift Water Rescue team left for Raleigh, North Carolina, to help with water rescues.
Members of the team are coupled with rescuers from Coal County, Oklahoma, and Robeson County, North Carolina. They are working in conjunction with members from Colorado Task Force 1.
The Oklahoma City Fire Department say the team is responsible for water rescues in Robeson County, including the cities of Pembroke and Lubmerton.
Their mission for Monday is to continue conducting grid searches as the Lumber River continues to rise. The river is currently higher than it has ever been and is still rising.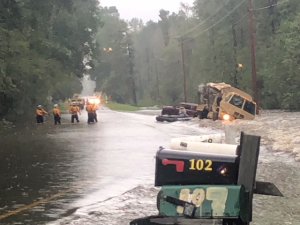 Oklahoma City Fire Department District Chief Brad Smith said it is a seven-day deployment, and with travel time, they'll be gone for a total of 11 days.
The Oklahoma City Fire Department's Helicopter Search and Rescue team, made up of three swimmers and one manager, also left for Raleigh, North Carolina, on September 12.
They have been working with other HSART personnel from Connecticut and Nebraska.
On Monday, the Oklahoma City Fire Department rescuers are expected to team up with the Oklahoma National Guard helicopter to continue searching as area waterways continue to rise.