This is an archived article and the information in the article may be outdated. Please look at the time stamp on the story to see when it was last updated.
MOORE, Okla. – Heartbreak, devastation and the city picking up the pieces after a deadly tornado ripped through Moore, Oklahoma, on Monday.
Now, one day later as families mourn, the clean-up and recovery effort continues throughout the area.
The medical examiner's office has confirmed 24 people have been killed in Monday's Moore tornado; at least 230 have been injured.
Amy Ellis with the medical examiner's office said of the 24, nine are children.
Ellis said in a press conference Tuesday seven of those children were found in the Plaza Towers Elementary School and two more were found elsewhere.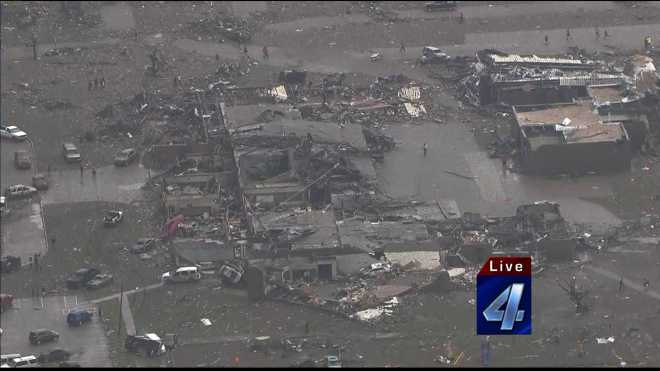 Moore tornado damage May 20
She said that number may continue to rise.
Monday, the death toll was reported at 51 and then at 91.
Officials said those numbers may have been inflated because of double reporting the fatalities.
Oklahoma Gov. Mary Fallin said the state has established a website where people can get information on services available to people affected by the storm: http://www.ok.gov/okstrong/.
Fallin said those impacted can also call 1-800-621-FEMA for further assistance.
She also said state lawmakers are working on a measure that would allow the state to tap its "rainy day savings account" to create an emergency fund.
That fund would be used to, among other things, help local governments fund their services. One example, she said, would be helping communities pay for overtime for emergency responders.
Fallin also said 33,000 residents remain without power; another problem is with communications.
Terri Watkins, the Oklahoma Department of Emergency Management spokeswoman who described Tuesday's search as "board by board," said it was far too soon to account for the devastation of the storm.
The tornado that slammed the Oklahoma City area tore through a 17-mile path, the National Weather Service said. The agency said survey crews indicated that the twister began 4.4 miles west of the city of Newcastle and ended 4.8 miles east of the city of Moore.
Fire officials say they have made it through most of the structures. They plan to make it through every damaged piece of property 3 times.
During a news conference Tuesday morning President Obama said, "Oklahoma needs to get everything it needs right away to recover from the powerful tornado."
The U.S. Department of Homeland Security's Federal Emergency Management Agency announced that federal disaster aid has been made available to the State of Oklahoma to supplement state, tribal, and local recovery efforts in the area affected by severe storms and tornadoes beginning May 18, 2013, and continuing.
Fire Departments from across the state come to help with search and rescue in Moore, OK

Near SW 149 OKC/S 19th St. Moore at Santa Fe.

This was 2.4 in hail that came through Wynnewood, OK around 12:30am. The one my daughter has in her hand has an unusual image in the center. If you look closely, it is in the shape of a heart. This hail covered our yard and lasted about 7 mins

This was 2.4 in hail that came through Wynnewood, OK around 12:30am. The one my daughter has in her hand has an unusual image in the center. If you look closely, it is in the shape of a heart. This hail covered our yard and lasted about 7 mins

Hail Pick up from the ground 15-20 Minuets after falling. Newalla Oklahoma

Unnamed

Near SW 149 OKC/S 19th St. Moore at Santa Fe.

The sky over the Shawnee Air Port 5/20/2013

164th & S Western

May 20th tornado

Flag among the wreckage- Victor Lee

pics from I-35 looking north

pics from I-35 looking north

Highland East junior High 4th east of Eastern and surrounding neighborhood

Highland East junior High 4th east of Eastern and surrounding neighborhood

Highland East junior High 4th east of Eastern and surrounding neighborhood

Highland East junior High 4th east of Eastern and surrounding neighborhood

Mother and son see their home for the first time

This is a quarter in the middle of the hail.

Unnamed

North Newcastle

North Newcastle

Heading south on Hwy 4 around hwy 37 red light. Listing to 101.9 - Meterologist was sending out extreme alert and I saw formation start to drop over bridge creek area. Very first of massive tornado that hit moore.

Damage in Moore

Lonely dog.

5-20-13 storms

Unnamed

Taken from our drive way looking South and West just before we took cover in our storm shelter which is installed in our garage.

Chris Jones 134th & Penn - May 20, 2013

Wichita Falls, TX - May 20th, 2013

Ronny Long- May 20

Softball hail Susan Allen

Little Axe hail Mary Stinnett

Hail ice - Jesse Frost

Lots of big hailstone in Newalla, OK - this is one about 1/2 hour after storm hit..like the bike helmet in our attempt at safety!!!!

Bigger than golfball

Taken earlier from NW OKC by Robyn McLaren
**CLICK HERE for the latest on the devastation in Moore**