This is an archived article and the information in the article may be outdated. Please look at the time stamp on the story to see when it was last updated.
OKLAHOMA CITY – The flu continues to take a toll on residents across the state, according to officials with the health department.
On Thursday, the Oklahoma State Department of Health announced that 56 people have died as a result of the flu this season. Eight of those deaths occurred within the last week.
Officials say residents in Tulsa County has been hardest hit by the flu this season, leading to 16 deaths in that county.
Oklahoma County has seen six deaths and 343 hospitalizations related to the virus.
Although the virus continues to affect people across the state, the latest data shows that the worst may be over.
The Oklahoma State Department of Health's hospitalizations chart shows that hospitalizations continue to drop.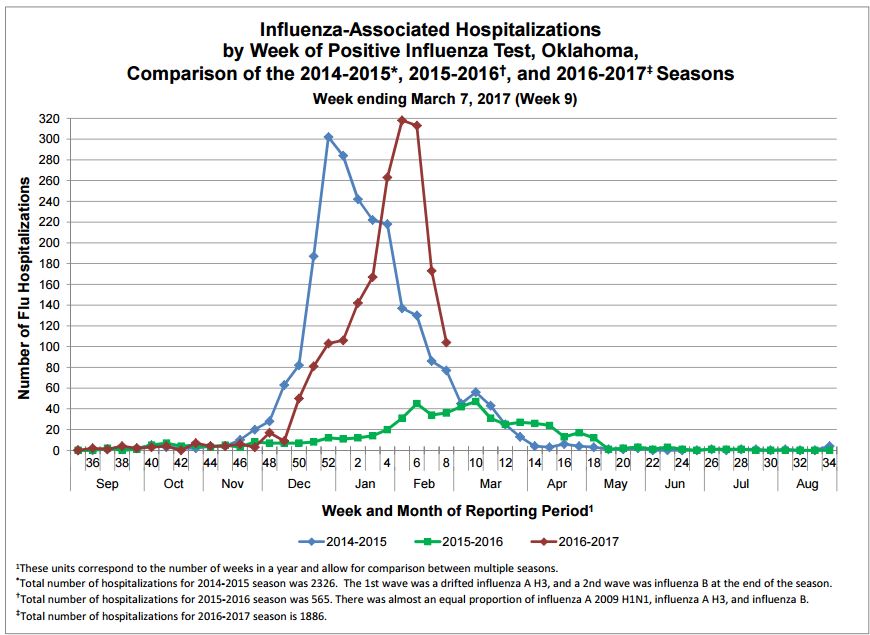 The department's data show that 40 of the deaths occurred in patients who were 65-years-old or older. Nine deaths occurred in those between 50 and 64-years-old, while five deaths occurred in patients between 18 and 49-years-old.
One child between the ages of 5 and 17-years-old died earlier in the season, and a patient who was up to 4-years-old also died from the flu.
The Oklahoma City-County Health Department recommends flu vaccinations and hand hygiene to avoid the dangers of the flu. If you sneeze or cough, cover your nose and mouth with a tissue.
Also, if you feel ill, stay home and go to a physician right away if symptoms persist.
Vaccination is important for those at high risk from flu complications including people 65 years of age and older, young children, pregnant women, persons with chronic lung disease, diabetes, heart disease, neurologic conditions and other long-term health conditions.