This is an archived article and the information in the article may be outdated. Please look at the time stamp on the story to see when it was last updated.
SHAWNEE, Okla. - A driver is lucky to be alive after he crashed his pick-up on icy roads.
"There's got to be some greater power out there looking after me, because there's no way I should have walked away," said Mike Chandler.
Chandler said the accident happened after he hit a patch of ice on a bridge near the Grand Casino in Shawnee.
"I felt the initial impact with the guardrail, and then felt myself going through the air and then it just happened very quickly," he said. "I can still picture it in my head, but it's very hard to describe the sensation."
Amazingly, Chandler was able to walk away from the scene with minor injuries and captured his totaled pick-up on camera.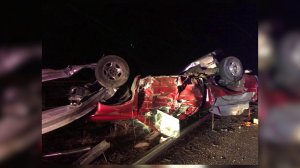 An officer who arrived to the scene to help called it a "Christmas Miracle" that Chandler was not seriously injured.
He was given a citation for reckless driving.