This is an archived article and the information in the article may be outdated. Please look at the time stamp on the story to see when it was last updated.
OKLAHOMA CITY, Okla. – Officials with Oklahoma Forestry Services (OFS) are preparing for potentially extreme fire danger in western Oklahoma Thursday and Friday.
Current fire weather forecast is also calling for elevated fire danger across the remainder of Oklahoma, except for southeastern Oklahoma.
High wildfire danger is expected TODAY and THURSDAY across the southwest US and Plains. In this video, @fema offers some great tips on how to prepare for a wildfire: https://t.co/vswcYhSdYm #WeatherReady pic.twitter.com/jWO6p3GQqZ

— NWS (@NWS) April 11, 2018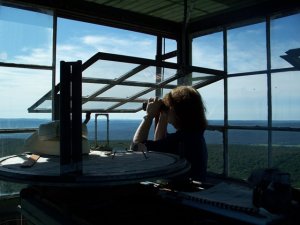 "Very strong burning conditions are expected with warm temperatures and extremely low relative humidity Thursday through Friday," said Drew Daily, fire staff officer for OFS. "With very little moisture recovery expected in the overnight hours, any fire starting has the potential to spread rapidly and burn through the night."
Firefighting resources have been propositioned in Woodward and Weatherford in advance of the predicted fire weather. This includes OFS wildland task forces and US Forest Service aviation resources. Additionally, Oklahoma National Guard helicopters are on standby in central Oklahoma.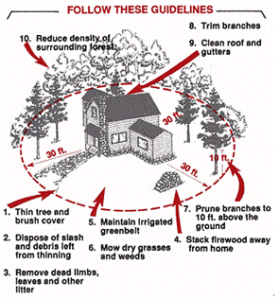 Citizens are urged to be cautious not to spark a wildfire and to report any suspicious smoke or fire to their closest fire department or by calling 911. Homeowners can also make their home more defensible by moving trash, debris and other flammable items like firewood piles or portable propane tanks a safe distance away from their home.
"Under these extreme conditions we are strongly discouraging any burning Thursday and Friday," said State Forester George Geissler.
Several counties remain under a Governor's Burn Ban and County Commissioner Burn Bans. The OFS website has advice on how you can protect yourself during a wildfire, they call it being Firewise.
Call for help. Use a cell phone if your electric power has been interrupted.

Close all entrances to your home and garage including windows, doors, garage doors, and vents.

Close shutters, heavy drapes, Venetian blinds or other window coverings. Doing so helps to prevent sparks from blowing inside your house and igniting.

Have tools and water accessible. Fill buckets and other bulk containers with water. Have a shovel, rake and long water hose accessible to fire fighting crews.

Dress to protect yourself. Wear cotton/woolen clothing including long pants, a long-sleeved shirt, gloves and a handkerchief to protect your face.

Wet down the roof. If your roof is combustible, wet it down with a hose. Place the ladder you use for this task on the side of the roof opposite the fire.

Turn off the residential fuel. If you use natural gas or butane, turn it off at the tank or meter.

Prepare the automobiles. Back as many vehicles as possible into the garage. Then close the door. In the event that you evacuate remember to close the garage door behind you as you leave. If you do not have a garage or if yours is full, park your vehicles heading in the direction of the evacuation route.

Don't wait until the last minute to make the decision to leave. We all want to keep our property from burning up, but never jeopardize the personal safety of you and your family.

Evacuate the family. If evacuation becomes necessary, take your family and pets to a safe place.
For more information on how you can remain Firewise, visit the OFS at www.forestry.ok.gov.