This is an archived article and the information in the article may be outdated. Please look at the time stamp on the story to see when it was last updated.
OKLAHOMA CITY – Gov. Mary Fallin has just released the timeline of events leading up to Clayton Lockett's botched execution earlier this week.
The Oklahoma Department of Corrections met in executive session to discuss the execution and the next steps Thursday.
TIMELINE: Click here to see the entire timeline
The newly released information gives much more insight into what may have gone wrong in Lockett's execution and how it happened.
Over the course of Lockett's last day, he was treated for a large cut on his arm, at one point officials were forced to Tase him and the timeline also shows the IV had to be started in his groin because no other veins were "suitable."
The Botched Execution From Beginning To End (5:06 a.m. – 7:06 p.m.)
5:06 a.m. – The execution process started early Tuesday at about 5 a.m. with x-rays, a routine part of the lethal injection process.
5:50 a.m. – At some point, Lockett became aggressive and officials were forced to restrain him at about 5:50 a.m. with a Taser.
6:35 a.m. – Officials said they found a "self-inflicted" cut on his right arm and drove him to the Intermediate Health Care Center (IHCC) at the Oklahoma State Penitentiary for treatment.
According to the timeline, Lockett was never alone during this process.
8:15 a.m. – A physician's assistant said Lockett didn't need stitches for the cut.
8:40 a.m. – By this time, Lockett is back in his cell and checked on every 15 minutes.
Over the next several hours Lockett refuses multiple offers to meet with his attorneys, he refuses food and is checked on every 15 minutes throughout the day.
4:10 p.m. – A restraint team takes Lockett to the "H-Unit SW shower (final holding cell prior to execution)."
4:55 p.m. – Lockett meets with mental health personnel.
5:19 p.m. – Oklahoma Dept. of Corrections Warden Anita Trammell and the restraint team took Lockett to the execution chamber and he was restrained on the execution table by 5:22 p.m.
5:27 p.m. – The timeline states, "Phlebotomist enters execution chamber to determine appropriate placement for IV. The Phlebotomist examined offender Lockett's left and right arms, left and right legs and both feet to locate a viable insertion point. No viable point of entry was located. The doctor then examined the offender's neck and then went to the groin area."
That process started at 5:27 p.m. and the IV insertion was finished by 6:18 p.m.
6:18 p.m. – "The IV insertion process is complete. Insertion point was covered with a sheet to prevent witness viewing of the groin area."
6:23 p.m. – Oklahoma Department of Corrections Director Robert Patton gave Warden Trammell approval to proceed with the execution.
– The chamber shades were raised
– Lockett refused his chance to say any final words
– Warden Trammell starts the execution and Lockett is injected with Midazolam through the IV
6:30 p.m. – The doctor checked Lockett and said he was still conscious.
6:33 p.m. – The doctor checked Lockett again and said he was unconscious so Lockett was given vecuronium bromide and then potassium chloride through the IV.
6:42 p.m. – At this time officials had realized something had gone wrong and lowered the shades so witnesses could no longer see into the execution chamber.
6:44 p.m. – The doctor and phlebotomist checked Lockett's IV and found his vein had collapsed.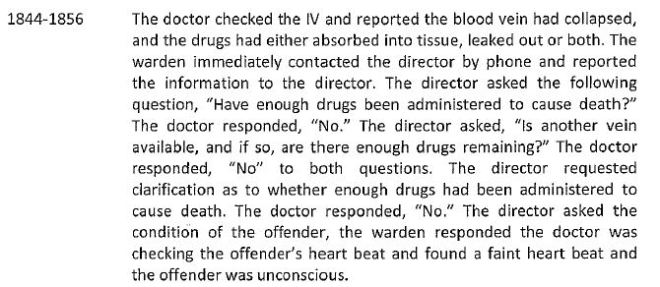 6:56 p.m. – Dept. of Corrections Director Patton called off the execution under the governor's authority.
7:06 p.m. – The doctor determined Lockett was dead.
It was later determined Lockett died of a massive heart attack.
The director of the Department of Corrections is now calling for an indefinite stay of all executions until a thorough review is completed.
Director Patton is also requesting an outside organization carry out the investigation.
The director said the investigation will have more credibility if it is done by an outside group and not by the state.