This is an archived article and the information in the article may be outdated. Please look at the time stamp on the story to see when it was last updated.
BROKEN ARROW, Okla. – An Oklahoma home where five family members were killed was demolished Tuesday.
Back in 2015, brothers (then) 16-year-old Michael Bever and 18-year-old Robert Bever stabbed their family members.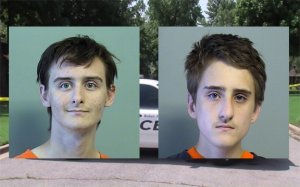 When authorities arrived on scene, they discovered the bodies of 52-year-old David Bever, 44-year-old April Bever, a 5-year-old girl, a 7-year-old boy and a 12-year-old boy.
A 13-year-old girl, who was stabbed but survived, told police that her eldest brothers had attacked her family.
The boys' 2-year-old sister was also found unharmed inside the home.
"I was told knives, there was a hatchet, there was several different types of weapons that were actually used in the homicides," said Cpl. Leon Calhoun, with the Broken Arrow Police Department.
On Tuesday, construction crews tore down the home.
Neighbors told Fox 23, the home was a daily reminder of the tragedy that happened inside.
The city of Broken Arrow now plans to build a memorial garden in its place.