This is an archived article and the information in the article may be outdated. Please look at the time stamp on the story to see when it was last updated.
OKLAHOMA CITY – Oklahoma lawmakers in both chambers have passed criminal justice reform measures that would keep nonviolent offenders out of prison.
The Oklahoma House of Representatives passed House Bill 2281, which would adjust penalties for low-level property offenses like larceny, forgery and other 'paper crimes.' It would  raises the threshold for property crimes to be charged as a felony to $1,000, matching the threshold set by a measure that passed in 2016.
"Many women in our prison system have been convicted of low-level, non-violent crimes like larceny, forgery and writing bad checks," said Rep. Terry O'Donnell, R-Catoosa. "In fact, convictions for those crimes are where we are seeing some of the greatest growth in our corrections system. This is a prime example of an area where we can reform our system, reduce our prison population, rehabilitate offenders and keep families together."
The bill would create a tiered penalty structure for property offenses by value.
For crimes totaling $1,000 or less, the penalty would be up to one year of incarceration.
For crimes totaling $1,000 to $2,500, the penalty would be up to two years of incarceration.
For crimes totaling $2,500 to $15,000, the penalty would be up to five years of incarceration.
For crimes exceeding $15,000, the penalty would be up to eight years of incarceration.
The bill would also create sentence enhancements for organized retail theft and for repeat offenders. If multiple thefts occur, they could be combined to reach the felony threshold.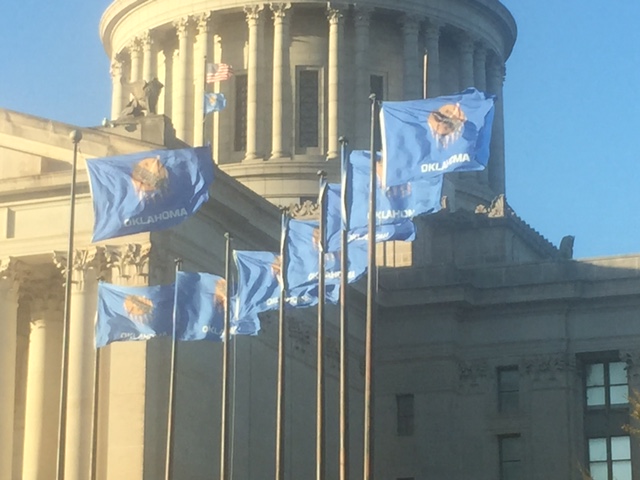 The House also approved House Bill 2286, which would create an administrative parole process for nonviolent offenders. It also establishes a geriatric parole process for inmates who are 60-years-old or older and are not a public safety risk.
"Less than 10 percent of our senior aged prisoners are released from incarceration on parole," said O'Donnell. "The is bill will help get some of those non-violent older prisoners out of the system quicker so they can get back to their families, find work and become productive citizens."
Both measures were approved and sent to the Oklahoma Senate for a vote.
On Tuesday, the Oklahoma Senate passed their own criminal justice reform measures.
"Oklahoma's prison population is currently at 113 percent capacity and is projected to grow 25 percent by 2026. That is an unsustainable course. These reforms will slow that growth and even reduce Oklahoma's overall prison population long-term," Senate Majority Floor Leader Greg Treat said. "Slowing the growth of the prison population will save the state hundreds of millions of dollars, allowing us to reinvest that money into education, health care, mental health services and other programs that will have a multiplying effect in further lowering incarceration rates."
The Senate passed the following measures:
Senate Bill 650, which allows offenders that have one nonviolent felony to apply for their records to be expunged if they have no new convictions or pending charges within the last seven years.
Senate Bill 786, which eliminates the mandatory minimum sentence and creates a third-degree burglary charge for vehicle thefts, which is punishable by up to five years in prison.
Senate Bill 649, which reduces enhances sentences for certain repeat nonviolent felonies.
Senate Bill 689, which creates risk and needs assessment as a tool for sentencing, requires intervention programming on certain domestic violence convictions.
Senate Bill 793, which changes the penalties for commercial drug offenses.
"These reforms are about more than saving money or reducing prison populations. This is a balanced approach to keep our communities safe while keeping more families together. We spend too much time and money locking up nonviolent offenders rather than investing in the treatment and rehabilitation. These reforms will keep more families together by ensuring nonviolent offenders get treatment and remain as taxpaying citizens," Treat said.
These measure will now head to the House for consideration.
According to the Oklahoma Department of Corrections, the bills would reduce the current inmate population by about 4,851 beds.  Right now, there are 27,056 inmates in Oklahoma prisons.
"The advancement of these bills is an important step in the right direction to slow our prison population growth," ODOC Director Joe Allbaugh said. "This, however, does not change the fact that the state still needs two new medium-security prisons to help us retire old, obsolete facilities."