This is an archived article and the information in the article may be outdated. Please look at the time stamp on the story to see when it was last updated.
UPDATE: 1/15/15 7:33 p.m.  The Department of Corrections confirms Oklahoma inmate Charles Frederick Warner has been executed at 7:28 p.m.
UPDATE: 1/15/15 6:20PM. The U.S. Supreme Court has denied the appeal of Charles Frederick Warner clearing the way for the execution to proceed.
Four justices dissented — Ginsburg, Breyer, Sotomayor, and Kagan.  Writing for the four, Justice Sonia Sotomayor said questions about Oklahoma's proposed method — and its risks — "are especially important now, given States' increasing reliance on new and scientifically untested methods of execution."
The defendants challenging the new protocols in the states, she said, "have committed horrific crimes, and should be punished. But the Eighth Amendment guarantees that no one should be subjected to an execution that causes searing, unnecessary pain before death. I hope that our failure to act today does not portend our unwillingness to consider these questions."
The next scheduled executions in Oklahoma are:
Richard Eugene Glossip on January 29, 2015
John Marion Grant, on February 19, 2015
Benjamin Robert Cole Sr. on March 5, 2015
UPDATE 1/15/15 at 5:19 p.m.
The Supreme Court has not yet made a ruling on Warner's stay appeal. Oklahoma has decided to delay the execution until further notice. The State Department of Corrections says the execution could still take place Thursday night, but they are waiting on the U.S. Supreme Court to make a decision on the appeals.
UPDATE 1/15/15 at 4:45 p.m.
NewsChannel 4's Abby Broyles was chosen as one of the 5 media members to witness the execution.
UPDATE 1/15/15 at 3:55 p.m.
The Department of Corrections and state penitentiary officials are making last minute preparations for the execution of Charles Warner, set to begin at 6 p.m.
Warner has already had his last meal of KFC, a Big Mac, gummy worms, fruit cocktail cup, potato wedges, coleslaw and a coke.
The same drugs used in the controversial execution of Clayton Lockett will be used tonight: Midazolam, Rocuronium Bromide, and Potassium Chloride. Three executioners will be utilized, with each one injecting one of the drugs.
Media members will be chosen to witness the execution based on a drawing. That will happen at 5 p.m.
Right now, 44 reporters from 25 stations are vying for the 5 open seats in the execution room as they await the court's decision on Warner's stay appeal, according to the Tulsa World.
Warner is convicted in the 1997 rape and murder of 11-month old Adrianna Waller.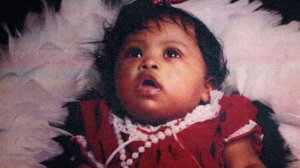 He's been convicted twice in these crimes and sentenced to death in both trials.
Original post 1/14/15 OKLAHOMA— An Oklahoma inmate scheduled to die Thursday night is making one last ditch effort to save his life.
Charles Warner was originally scheduled for lethal injection back in April of last year.
Warners' death date was delayed after Clayton Lockett's lethal injection went horribly wrong.
An IV line failed, causing Lockett to writhe in pain for almost an hour before dying of a heart attack.
Since then, Warner and 20 other inmates have filed a lawsuit, challenging the constitutionality of Oklahoma's execution procedures, specifically the three-drug cocktail used during the injections.
Warner faces the death penalty for the rape and murder of 11-month-old Adrianna Waller back in 1997.
Her convicted killer has now asked the United States Supreme Court to stay his execution.
That move comes as no surprise.
"It happens in any case where someone is going to be executed. They file for a stay of execution," said legal expert David McKenzie.
The focus of Warner's appeal cites the use of a drug called Midazolam..
That is the first in a three drug mixture planned to be used during Warner's execution.
The request for stay reads in part, "The method by which Oklahoma intends to execute the petitioners is inherently unconstitutional, because it relies on a drug that cannot reliably produce or maintain a deep, comalike unconsciousness."
Click here to see the OK Stay Application
Both the local district court and the 10th Circuit Court of Appeals disagreed and ordered the execution can proceed.
"I think what the state is saying is we fixed the problem and expect the execution to go forward without undue suffering," said McKenzie.
Attorney McKenzie isn't connected to the case, but says the legal challenge – filed in the wake of Lockett's botched execution – gives Warner a slightly more compelling case than most convicted killer's seeking a stay.
"I would be shocked if he got a stay but he's got a better shot than most that file on the day the execution is set," said McKenzie.
Officials with the Department of Corrections didn't want to talk about the execution plans because of the pending lawsuit.
Click here to see the OK Cert Petition