This is an archived article and the information in the article may be outdated. Please look at the time stamp on the story to see when it was last updated.
McALESTER, Okla.– The state of Oklahoma completed its first execution, Thursday night, since the botched lethal injection of a death row inmate last April.
Charles Frederick Warner was pronounced dead at 7:28 p.m.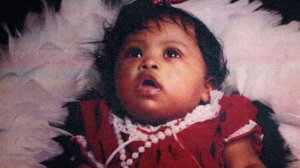 The man convicted of raping and killing 11-month-old Adrianna Waller in 1997 was put to death on Thursday after the Supreme Court denied Warner's appeal.
One of Warner's attorneys, Assistant Federal Public Defender Dale Baich, filed a motion to stay the execution with the U.S. Supreme Court on Wednesday.
He argued the use of the sedative "Midazolam" was unproven and would lead to a cruel and unusual death for Warner – a violation of his constitutional rights.
This came after the botched execution of Clayton Lockett in April 2014, when an IV line failed, causing Lockett to writhe in pain for almost an hour before dying.
Last year, an investigation by the Department of Public Safety led to new DOC execution protocols.
Their report said the biggest problem with Lockett's execution was the I.V. line becoming dislodged in his groin, meaning the drugs were not going into his vein.
Warner's execution, originally scheduled for 6 p.m.,  was delayed by the State of Oklahoma because the Supreme Court had not made a ruling on the appeal by the time Warner was supposed to be prepped for the execution.
NewsChannel 4's Abby Broyles was chosen as one of the five media members to witness the execution.
Media witnesses said the process began at 7:10 p.m. and there were no signs of life by 7:28 p.m., meaning the execution took 18 minutes to complete.
By contrast, it took 43 minutes for Clayton Lockett to die by lethal injection on April 29, 2014.
KFOR's Abby Broyles says before the three-drug cocktail was administered, Warner said, "It feels like acid," and "My body is on fire."
His last words before the drugs took full effect were "I'm not afraid to die, we's [we are] all gonna die."
Broyles said it did not appear Warner was in pain. He never raised his head off the gurney and did not convulse the way Lockett did last April.
Sean Murphy with the Associated Press said afterwards, "It appeared the sedative worked."
Oklahoma Attorney General Scott Pruitt issued the following statement: 
"Even before she saw her first birthday, 11-month-old Adrianna Waller experienced unimaginable violence at the hands of Charles Warner. Justice has been delayed for Adrianna, but Warner now will face accountability for the unspeakable acts he committed against this beautiful little girl. The courts have weighed in and upheld the punishment handed down to Warner by a jury of his peers. After unprecedented legal wrangling and more than a decade of delay, Adrianna is finally receiving justice."
Oklahoma Governor Mary Fallin's statement: 
"Justice was served tonight as the state executed Charles Warner for the heinous crime of raping and murdering an infant. I appreciate the professionalism shown by Department of Corrections employees during this process."
ACLU of Oklahoma Executive Director Ryan Kiesel's statement: 
"The State of Oklahoma has once again chosen to murder an individual in a process that is deeply flawed and in a manner that risks the very types of punishment our Constitution seeks to prohibit. Rather than face the facts that it is impossible to impose any degree of humanity into an inherently inhumane act, politicians have again chosen to use the condemned as human guinea pigs with unpredictable results. While these same politicians trip over themselves to boast of their support for the death penalty, they have gone to absurd lengths to hide the actual details of the execution from the public. From inventing new limits on the media's right to report on the execution to the use of a paralytic agent during the execution that could mask signs of extreme pain, the level of secrecy is disturbing and should concern those on both sides of the capital punishment debate." 
Attorney for Charles Warner, Madeline Cohen statement: 
"Tonight, Oklahoma executed Charles Warner using midazolam, a drug that is not approved for general anaesthesia. We know from the three problematic midazolam executions in 2014 that the drug cannot reliably produce a deep, comalike unconsciousness. And because Oklahoma injected Mr. Warner with a paralytic tonight, acting as a chemical veil, we will never know whether he experienced the intense pain of suffocation and burning that would result from injecting a conscious person with rocuronium bromide and potassium chloride."
The next scheduled executions in Oklahoma are:
Richard Eugene Glossip on January 29, 2015
John Marion Grant, on February 19, 2015
Benjamin Robert Cole Sr. on March 5, 2015