This is an archived article and the information in the article may be outdated. Please look at the time stamp on the story to see when it was last updated.
POTTAWATOMIE COUNTY,Okla. – A murderer is still on the loose, and the case over 30 years old.
A family is still searching for answers after tragedy struck a newly wed Pottawatomie County couple.
The groom was stabbed to death, and his wife is still missing.
Despite the decades of the unsolved mystery, family and law enforcement are still looking for closure.
The case was actually reopened 7 years ago by the undersheriff.
May 4, 1983 was the last day Paul and Melody Jones were seen alive.
They lived in a home nestled just off of highway 9A in east Pottawatomie County.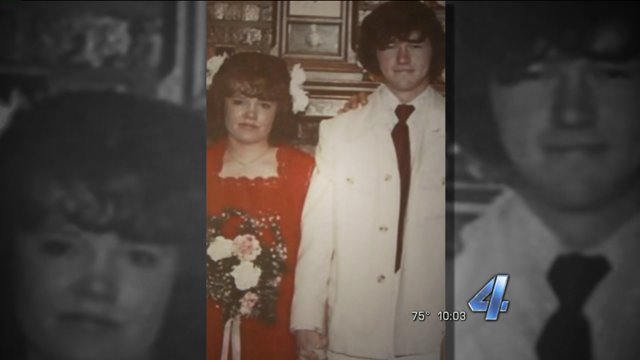 "Paul and Melody lived out north of Earlsboro, Oklahoma. [They were] newly married, young." J.T. Palmer, Pottawatomie County undersheriff said.
Paul was 20, Melody was only 19.
"His wife, Melody, supposedly went fishing with her family that night, and they dropped her off at her home," Palmer said.
It was the last time anyone had contact with the couple.
"She did not report to work in Seminole at the Dairy Queen the next morning," Palmer said.
A morning that is forever ingrained in the family's memory.
"The manager called her mother, she went down the road to the residence and actually found Paul stabbed to death in the bedroom and Melody missing," Palmer says.
There were no signs Melody had left on her own. Her personal belongings were all still inside.
"So the bed was here, gun was here, he's all the way over here?" Sheriff Mike Booth asked as they pour over case files.
Justice was demanded when the case was reopened years ago.
"There's somebody out there that knows something," Palmer said.
If Melody is still alive, she would be 51.
However, Palmer believes Melody was killed.
"No evidence is taking us in any other direction," the undersheriff told the Shawnee News-Star, adding, "1983 to now is a long time to hide…there is no evidence she is alive."
This week, sheriff's investigators searched a 10-acre property in Earlsboro hoping to find Melody's remains, the Shawnee News-Star reports.
Officials decided to search the area after new information surfaced that a ruby ring, possibly a connection to Melody, was found under a cedar tree on the property years ago.
The property is just four miles away from Melody and Paul's home.
However, after the intensive 3-day search, nothing was found.
Palmer told the Shawnee News-Star that although his team didn't find any clues, he is not giving up the search for Melody.
"This case is still solvable," he said. "There is still somebody about there who knows something."
Palmer told the local news paper that the focus is to solve Paul's homicide and find out what happened to Melody.
"We still don't know what happened," Palmer said, other than Paul was murdered and Melody is believed to be a victim of abduction.
Palmer said they will continue to investigate and follow leads until this case is solved. He still believes someone out there has information that could complete the missing pieces of this puzzle.
"Maybe back then they were scared to come forward? I'm asking them to come forward now, sit down with me and tell me what you know," Palmer told News 4 in 2015.
A small bit of information could help the family, one just like yours.
"Guilt is a heavy burden to carry since 1983," Palmer said.
If you have any small bit of information that could help solve this crime, you're asked to call Pottawatomie County Sheriff's Office at (405) 273-1727 or the Oklahoma State Bureau of Investigation at 1-800-522-8017.