This is an archived article and the information in the article may be outdated. Please look at the time stamp on the story to see when it was last updated.
WASHINGTON — Louisiana and Oklahoma have declined a Russian request to send its diplomats to monitor polling stations on Election Day, according to letters from state officials provided to CNN.
In turning down the request from the Russian consulate in Houston, Louisiana Secretary of State Tom Schedler wrote that recent flooding had left his office extremely short-staffed trying to deal with the damage and prepare adequately for the vote on November 8.
"Had this flood event not occurred, we certainly would have been open to such a visit," he told Consul General Alexander Zakharov.
It is against the law in Oklahoma for unauthorized people to be within 50 feet of the ballot box while voting is taking place.
"The Russian Consulate sent a request to secretary Chris Benge, the secretary of state for Oklahoma, back in late August requesting to send monitors to watch our election process, and they specifically asked to be at polling stations on election day," Oklahoma State Election Board spokesperson Bryan Dean said.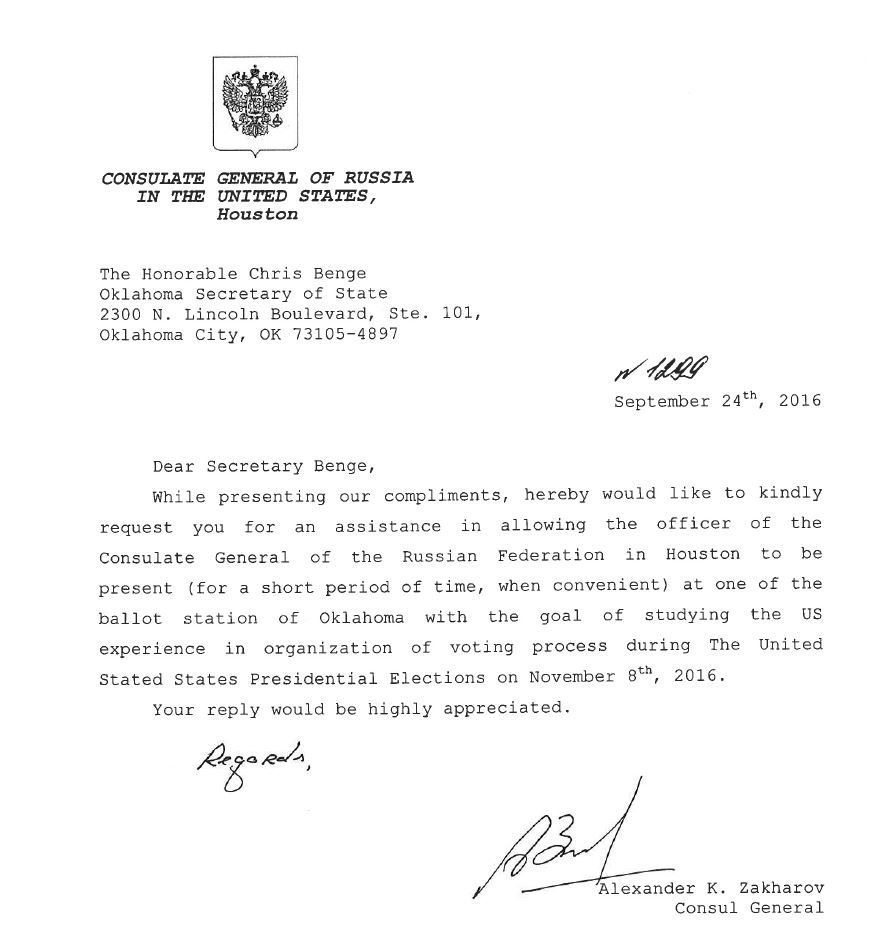 Oklahoma denied the Russian proposal by citing state laws that prohibit it.
"While it would be our honor to offer the opportunity to observe our voting process, it is prohibited under state law to allow anyone except election officials and voters in or around the area where the voting takes place," the Oklahoma secretary of state's office wrote to the Russians. "I hope that you are able to view the televised election process on November 8, 2016, as citizens of the United States select the country's next president. It is truly an amazing system."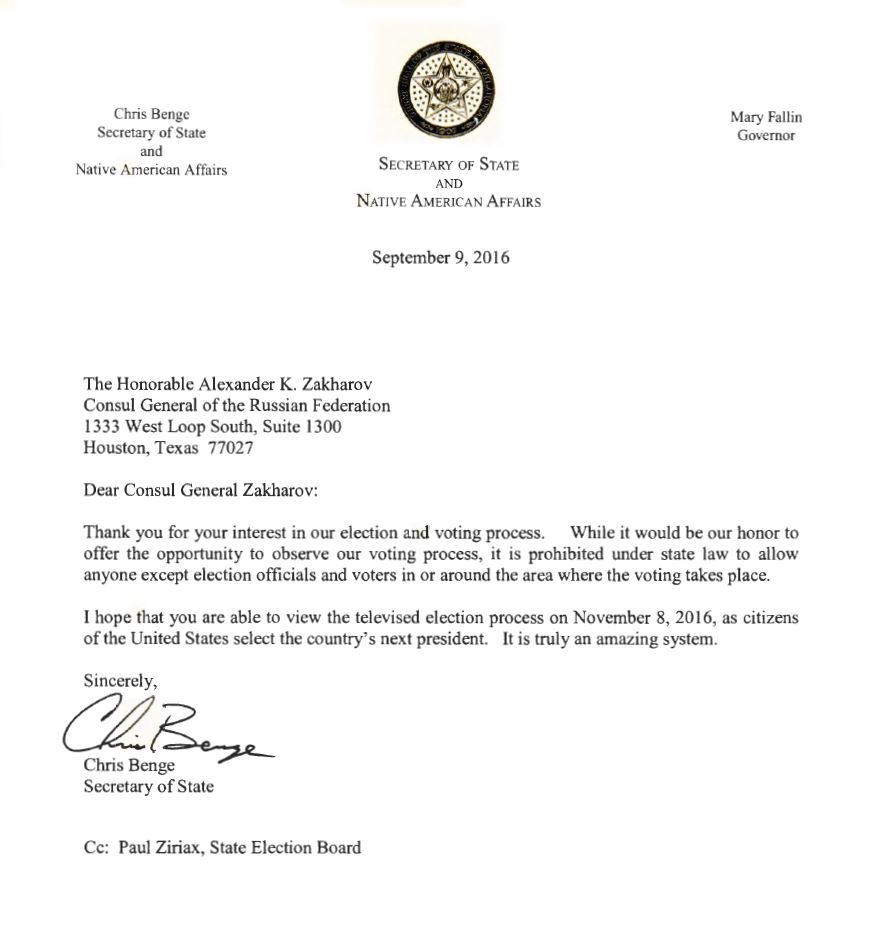 The letter written to Benge requested "an assistance in allowing the officer of the consulate general of the Russian Federation in Houston to be present for a short period of time when convenient at one of the ballot stations of Oklahoma with the goal of studying the US experience in organization of voting process during the United States presidential elections on November 8, 2016."
"It's not unusual for us to get request from foreign monitors," Dean said.  "Other countries are looking to see how we conduct elections, and really it's because our election system is the envy of the world."
The Russian request comes after Republican presidential candidate Donald Trump has repeatedly raised the prospect that the election could be "rigged" and warned of the possibility of "large-scale" voter fraud.
Democratic candidate Hillary Clinton has pushed back at the allegation, while labeling Trump a "puppet" of President Vladimir Putin given the candidate's many friendly statements about the Russian leader and unwillingness to back Obama administration accusations that Moscow has been behind the hacking of US election systems and political groups.
Russian-funded news RT claimed that several states had rejected Russian requests to provide poll monitors — as well as the federal government.
But State Department spokesman Mark Toner said that "any suggestion that we rejected Russia's proposal to observe our elections is false."
He continued, "Individual parties — foreign governments, NGOs, etc. — are welcome to apply to state governments to observe our elections."
Russians have the opportunity to monitor the American election through the Organization for Security and Co-operation in Europe, but they have chosen not to, according to Toner.
US officials last month took part in an OSCE observation mission of the Russian parliamentary elections, Toner said.
He added that Russia's decision not to join the OSCE missions "makes clear this issue and the story are nothing more than a PR stunt."
White House spokesman Josh Earnest as well noted on Friday that Russia had declined to participate in the OSCE mission, raising questions about their intentions.
"It's appropriate that people might be suspicious of their motives or at least their motives might be different than what they have publicly stated, given the nefarious activities that they've engaged in cyberspace," he said.