This is an archived article and the information in the article may be outdated. Please look at the time stamp on the story to see when it was last updated.
DUNCAN, Okla. – An Oklahoma man accused of shooting his father, mother and sister to death last October says he welcomes the death penalty.
"I 100% welcome the death penelty!(sic)  What occured(sic) is so horrible it is deserved. It is so unspeakable," Alan Hruby, 20, said in a letter to The Oklahoman.
In his preliminary hearing last month, Hruby wiped away tears while the family's longtime housekeeper described finding the bodies of John, Tinker, and Katherine Hruby in the kitchen of their home October 13.
In his letter, Hruby says his "tears have all been REAL!"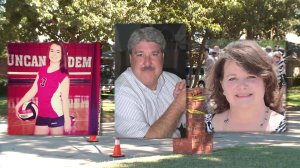 "I lost my entire family at once!!! How could they not be real," he wrote. "It's just hard to hear that somehow I am faking all of this."
Not long before the murders, Alan Hurby's parents cut off his finances after he took out a credit card in his grandmother's name and charged thousands of dollars on it.
Investigators say money was the motive in the murders and that Alan Hruby was a shopaholic hoping to cash in on his family's inheritance.
However, Hruby says shopping was not the motive behind the murders.
"This didn't happen because of shopping. My shopping wasn't something I or my parents could not pay. They just thought my spending was out of control, and it was," he said in his letter.
Hruby said he didn't feel like himself the day he shot his family to death.
Although he says his addiction to shopping wasn't the reason he killed his family, he says he is still trying to figure out why he did it.
"I'm still trying to work it out. Trying to figure all of this out," he wrote.
Hruby is currently serving three years in prison for opening a credit card account in his grandmother's name and using it to take a European vacation.
Last month, prosecutors filed a bill of particulars saying they will seek the death penalty against Hruby.
He is due back in court August 20th.
[protected-iframe id="1d9a2711c23b4d0da949f3130053e514-29519643-62065474″ info="https://www.scribd.com/embeds/271184259/content?start_page=1&view_mode=scroll&show_recommendations=true" width="600″ height="360″ ]
[protected-iframe id="0e269e973c441e2a887ca1a6dbb6d6fa-29519643-62065474″ info="https://www.scribd.com/embeds/271185405/content?start_page=1&view_mode=scroll&show_recommendations=true" width="600″ height="360″ ]