This is an archived article and the information in the article may be outdated. Please look at the time stamp on the story to see when it was last updated.
[protected-iframe id="4174094c7c2a5873fd64ba4d52db79d9-29519643-62065474″ info="http://v9.anv.bz/scripts/anv_mcp_9.js" width="600″ height="360″  ]
TULSA, Okla. – A Tulsa police officer who is accused of accessory to murder of her daughter's boyfriend was released from jail Thursday night.
According to KJRH, Gina Kepler, 48, was released on a $25,000 bond.  She must appear in court on Tuesday for her arraignment.
First Assistant District Attorney Doug Drummond said, "The DA's office doesn't consider Kepler a flight risk or a public safety concern."
Her husband Shannon Kepler, who is also a police officer, remains behind bars on murder charges.
Police say Shannon Kepler confronted his daughter's boyfriend, 19-year-old Jeremy Lake, who was walking with Kepler's daughter Lisa.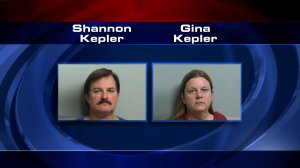 According to the police report, Kepler and Lake argued before Kepler fired three shots at his daughter and Lake.
Lake was shot and killed, but Kepler's daughter was not injured.
"I don't understand why my dad did this. I don't get it. I don't know what went through his mind. I can't tell you what my mom is thinking, but I honestly hope they rot in prison for this," said Lisa Kepler.
According to KJRH, Kepler's attorney claims he has a perfect defense and added that this case will go very slow because of elections.
 MORE: OKLAHOMA OFFICER ARRESTED FOR ALLEGEDLY MURDERING DAUGHTER'S BOYFRIEND