This is an archived article and the information in the article may be outdated. Please look at the time stamp on the story to see when it was last updated.
TULSA, Okla. – Two Tulsa police officers are behind bars for the murder of a 19-year-old man.
Officials say 54-year-old Shannon Kepler turned himself in after the deadly shooting on Tuesday night.
He was arrested for first-degree murder and shooting with intent to kill.
Kepler's wife, who is also a police officer, was arrested for accessory to murder after the fact.
Police say Shannon Kepler confronted his daughter's boyfriend, 19-year-old Jeremy Lake, who was walking with Kepler's daughter.
According to the police report, Kepler and Lake argued before Kepler fired three shots at his daughter and Lake.
Lake was shot and killed, but Kepler's daughter was not injured.
"I don't understand why my dad did this. I don't get it. I don't know what went through his mind. I can't tell you what my mom is thinking, but I honestly hope they rot in prison for this," said Lisa Kepler.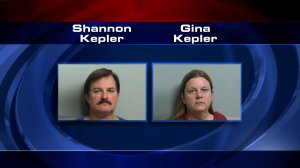 According to the police report, investigators called the officer's home and spoke with Gina Kepler, who said she and her husband would surrender to police.
She told officials they would leave the murder weapon in the trunk of the car.
However, investigators have been unable to locate the family's car or the weapon.
Police say the Keplers are not cooperating with the search for the vehicle and weapon.
Both have been placed on administrative leave.
Shannon Kepler is a 24-year veteran of the Tulsa Police Department.
A look into Gina Kepler's personnel file reveals that she has been reprimanded by the force before.
In 2012, she was suspended without pay for five days after violating Tulsa Police Department policies.
Officials claim she failed to respond to emergency calls, stayed at home for an "unreasonable, extended" time while on duty, failed to tell dispatchers she wouldn't be arriving on a call in a timely manner and failed to respond when assigned as backup for another officer.
In June 2014, she was also suspended for five days without pay after she allegedly fell asleep in the Gilcrease Division's parking lot while on duty.