This is an archived article and the information in the article may be outdated. Please look at the time stamp on the story to see when it was last updated.
OKLAHOMA CITY – We have an exciting update on a brood of owls who've nested in one family's window box for six years.
The great horned owls first discovered Jeff and Deziray Click's flower box back in 2010.
The Clicks set up a webcam to watch the owls.
Their oldest daughter, Alessondra, started leading discussions about owls in chatrooms and school classrooms.
Alessondra, who is 12 years old now, has become a real expert in owl behavior.
To date, nine million people around the world have logged on to view the owls in the past six seasons.
This season began in the fall of 2016 with high drama as the female owl, named 'Mrs. Tiger' by Alessondra, was shot down on her way to the nest.
But, as mating season began, the family tree was resurrected by a new mate for the male, 'Mr. Tiger.'
Mr. Tiger chose female 'Altera' as his mate, and she laid two eggs in late 2016.
But, the first clutch of eggs did not survive, which is common for a first-time mum.
Then, two more eggs showed up in the nest.
Two perfect eggs from which two owlets emerged in early March.
All was well with the Tiger nest of owls at the Clicks.
Meanwhile, in another part of Oklahoma, a baby owl was ousted from its nest by a construction project.
The baby owl's parents took off when their nest was destroyed, leaving the helpless owl to fend for himself.
But, the baby was still too young to fly. He needed a new nest to survive.
Wildlife expert Rondi Large nursed the young owl back to health at Wildcare Foundation in Noble, Oklahoma.
Large is an expert, but even Rondi could not provide what the young owl truly needed, a nest to learn how to survive in the wild.
"It's the best opportunity for this baby to grow up wild and have the influence of owl parents," Large said.
So, Rondi called the Clicks to ask if they would take another owl into their nest.
"We were a little hesitant, because what if this goes wrong?" Deziray said.
"We thought 'Could this season get any more interesting?' And, then, boom, adopted owlet," Alessondra said.
An owl adoption can be risky, particularly for birds of prey.
"They are a meat-eater, and you are putting a little warm body of meat in there," Large said. "So, you really have to monitor them closely, which is why the owl cam is perfect."
Turns out, the orphaned owl was a perfect match for the Tiger family of great horned owls.
"We watched mom come back to the nest that first time, and look and observe," Deziray said. "Wow. I don't know if owls can count, but she thought something was different. She noticed there was another one there."
Thankfully, Mr. Tiger noticed as well and began hunting enough for all three owlets.
Soon, the adopted baby, which Alessondra named 'Principio' baby had doubled in size.
"It's really cool to see how she took him in," Alessondra said.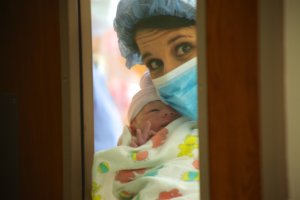 This is actually the second adoption for the Clicks in the past year.
Little Xavier joined the Click family last may – adopted at birth.
Xavier has found a home here just like the little owl.
"We treat Xavier as our own, because he is. And, (Altera) treats Principio as her own, because he is."
The Clicks have always wondered, why them? Why this window box?
Perhaps, this season, like the owls that come back year after year, their answer arrived.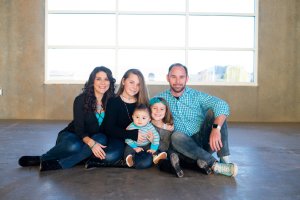 The oldest owlet, 'Primo,' fledged late last week, which means he learned to fly and take off from the nest.
For the millions who watch the owl family on webcam, the addition of Principio should extend the season by a few weeks this year.
WATCH LIVE: Alessondra's Great Horned Owl Cam