This is an archived article and the information in the article may be outdated. Please look at the time stamp on the story to see when it was last updated.
JONES, Okla. -- Officers in the Jones Police Department are now asked to have at least five 'traffic contacts' per shift.
Police say the move comes as a way to make city streets safer, as school starts back up.
'Traffic contacts' include any contact between an officer and a driver, whether that be a issuing a speeding violation, or even helping a distressed driver.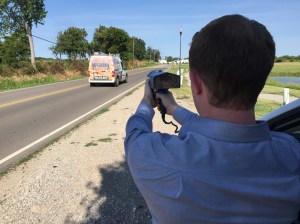 "We pretty much do it every year," said Sgt. Les Warren, with Jones Police.
Police officials are adamant this does not mean every officer must write five traffic citations per shift, nor is this a 'traffic ticket quota'.
"When school restarts, there are 16 year olds getting their license," explained Warren. "We want to keep them safe, and everyone else on the road."
In a post on their Facebook page, Police Chief Thomas Pletcher explained, "I am simply asking them to be more aware of dangerous situations and to educate people when they commit a traffic violation."