This is an archived article and the information in the article may be outdated. Please look at the time stamp on the story to see when it was last updated.
MCLOUD, Okla. – A  McLoud police officer is recovering in the hospital after being injured after a crash earlier Tuesday morning.
Officers say a trash truck hit the police officer's vehicle near McLoud High School.
It happened on McLoud Road that's in Pottawatomie County.
The officer has been identified as Alan Smith.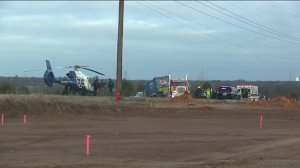 According to investigators, the truck slammed into the driver's side of the officer's vehicle.
Emergency crews worked for an hour  to rescue the officer from his vehicle.
A medical helicopter transported the officer to the hospital.
The officer is in serious condition in the hospital.
This is a developing story.  Please refresh this page often for updates.