This is an archived article and the information in the article may be outdated. Please look at the time stamp on the story to see when it was last updated.
OKLAHOMA CITY -- An Oklahoma state representative says he was trying to stir conversation with a Facebook post, that uses the term "Anchor Baby" 32 times.
"I'm sick of political correctness gone amuck!" Rep. Paul Wesselhoft (R-Moore) wrote on his personal Facebook page. "It hinders the first amendment!"
Wesselhoft says he was just trying to start a discussion and debate.
"I think that you can see from the debates on television that people are kind of fed up with this political correctness," Wesselhoft said. "Some of it might be ok. But some of it has gone overboard."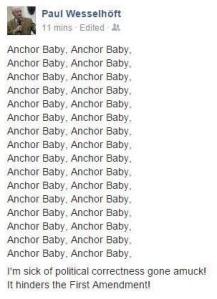 The term "anchor baby" is used to describe a child born to a woman who is not an American citizen, used to help the family gain citizenship or residency.  It's come into the spotlight recently, as Republican Presidential Candidates Jeb Bush and Donald Trump use the words to describe their stances on immigration policy.
"If the term is somehow offensive, well I'm kind of offended that these women are pregnant coming here having babies and I have to pay for it with my tax money," said Wesselhoft. "We have enough to spend on our own citizens that were here already."
People have criticized the term as being insensitive and offensive to immigrants and their children.  Democratic candidates like Hillary Clinton have suggested terms like "babies" or "American citizens" instead.
"You are labeling an entire group of people that are just trying to do the right thing for their children and being very derogatory about it," said Sarah Baker, communications director for the Oklahoma Democratic Party. "It's not about being politically correct, it's about putting another group of people down entirely."
Baker says she has yet to find a a term that isn't derogatory to use instead.
Wesselhoft says he's willing to ditch the "anchor baby" term -- so long as whatever replaces it accurately describes the situation.  But terms like "baby" and "citizen" aren't specific enough.
"I'm open to any term to be used but it has to be descriptive of the process," said Wesselhoft, who suggested "foundation baby" as an alternative. "And the process is some immigrants come to this country purposefully to have a baby because we have a very generous welfare system that they take advantage of. And why wouldn't they?"
And Wesselhoft says, it's his First Amendment right to use the term, and he's proud of the discussion he has started on his Facebook page.